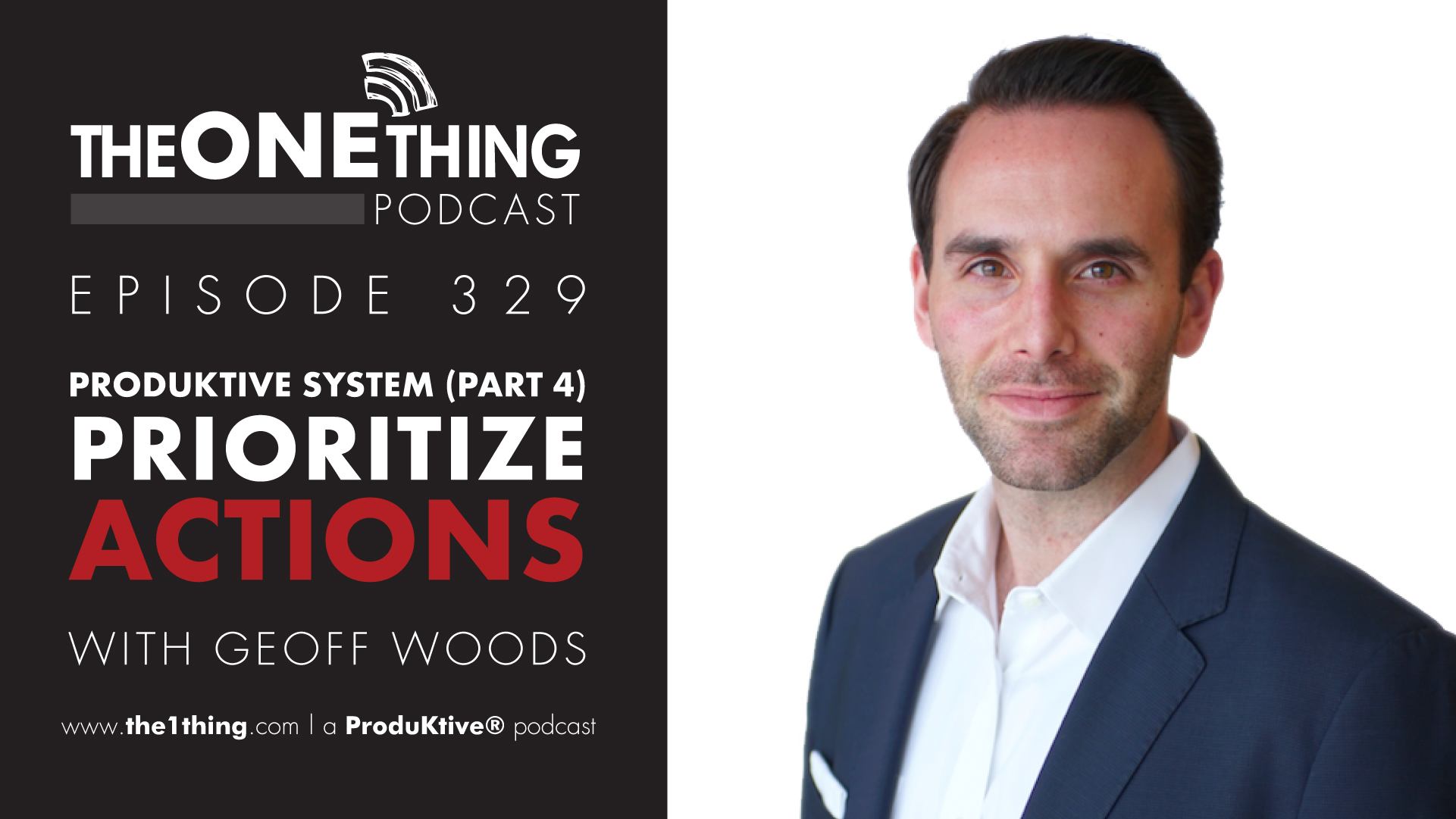 ProduKtive System (Part 4) – Prioritize Actions
This is part four of a six-part series diving into the ProduKtive System, our proven method for implementing the principles of The ONE Thing into your life. While these principles are surprisingly simple to understand, they can be challenging to put into practice. Today we focus on how you can prioritize things so that you can stay on track to hit your daily, monthly, and yearly goals.
It might seem like merely knowing what you should be doing is enough, we know that's never the case. People struggle to bridge the gap between their yearly plan and what they need to accomplish this week. They are often reactive when they need to be proactive and they struggle to say no to the things that don't matter as much. 
In this episode, we unravel each of these ideas so that you can learn how to overcome them and achieve greater results in less time.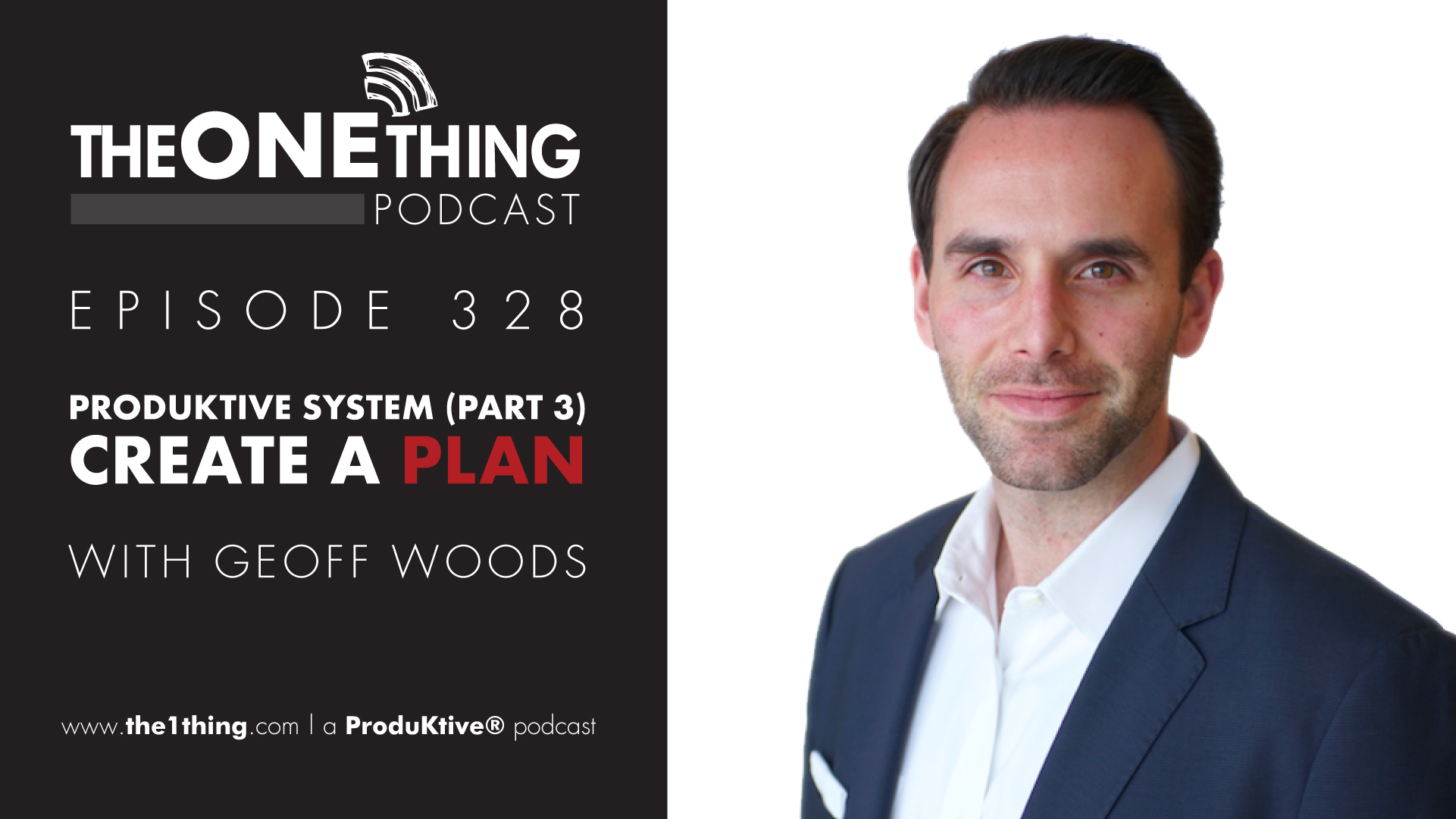 ProduKtive System (Part 3) – Create a Plan
Time is your most valuable resource. The problem is, most people spend their time instead of investing it. The resulting waste is amplified if you apply it across an entire organization. If you can't focus on what matters most, you end up working longer hours and sacrificing your personal life.
We help people implement a simple system to turn their big vision into action steps. Instead of just being busy, you'll be productive and achieve extraordinary results both professionally and at home. While the principles of The ONE Thing are surprisingly simple, they can be challenging to live.
What stops most people from living The ONE Thing is the lack of a system – which we've called "The ProduKtive System." In the third of our six-part series, we discuss how to build a strategy and get clarity across your organization by creating a one-page business plan. We discuss the top challenges that most business planning processes face and help you understand the problems that they can lead to.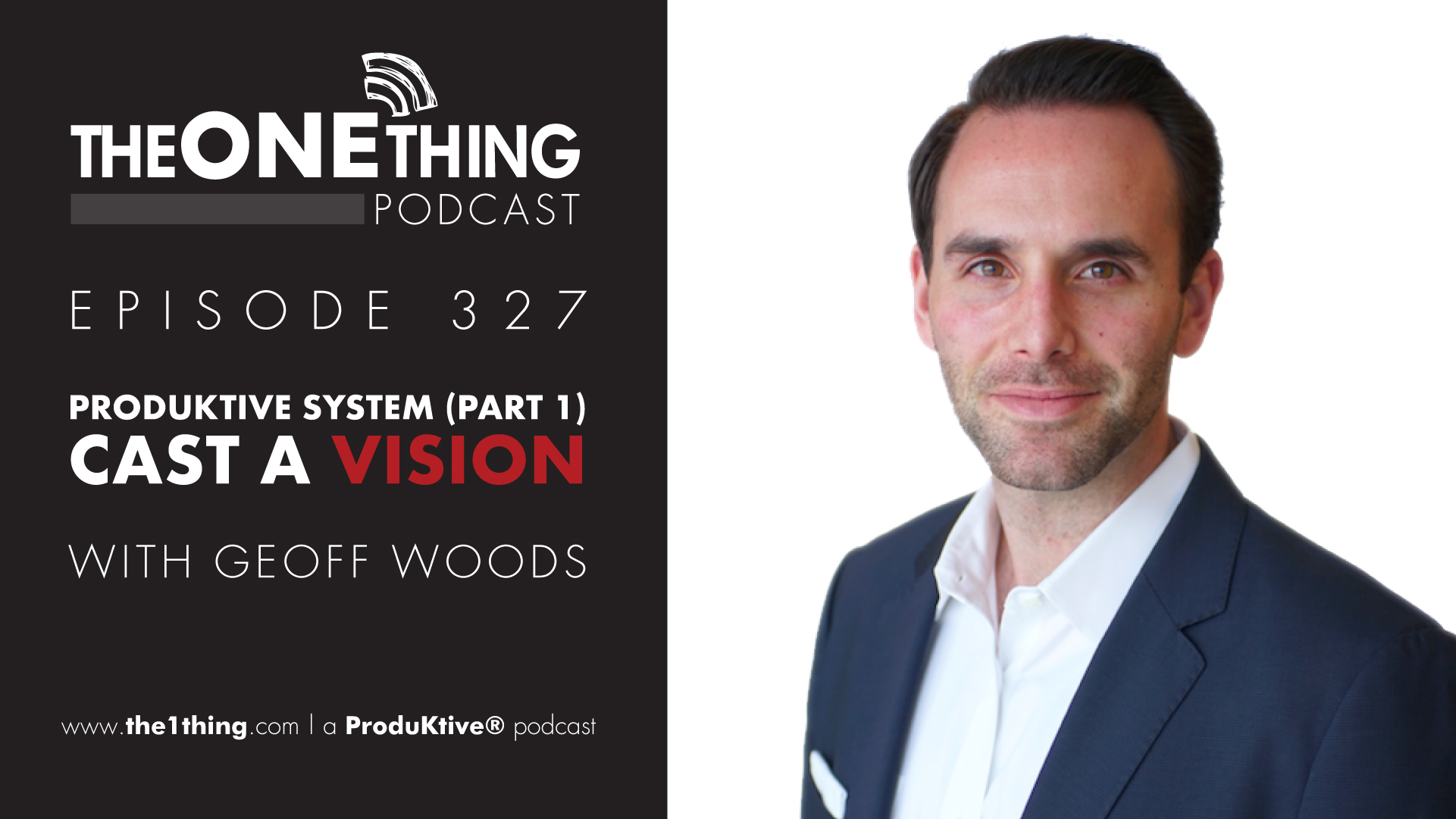 ProduKtive System (Part 2) – Cast a Vision
This is the second in a six-part series of episodes exploring the steps of the ProduKtive system. ProduKtive will change how you think for the better, allowing you to cast a stronger vision with bigger, more precise goals. 
In this episode, we cover what it truly means to cast a vision for the future. There are so many traps we can fall into that justify why we can't stop and plan our futures out properly. Maybe we're too busy. Maybe it's impossible to see the future with any worthwhile clarity. Maybe we work for an organization and it's not our vision that's being implemented. Or maybe it's just far too easy to stay attached to the way things used to be instead of having to imagine a whole new potential. 
If any of this sounds like you, then you should know that it's so much easier than you think. A few simple adjustments will allow you to become actually productive instead of just busy.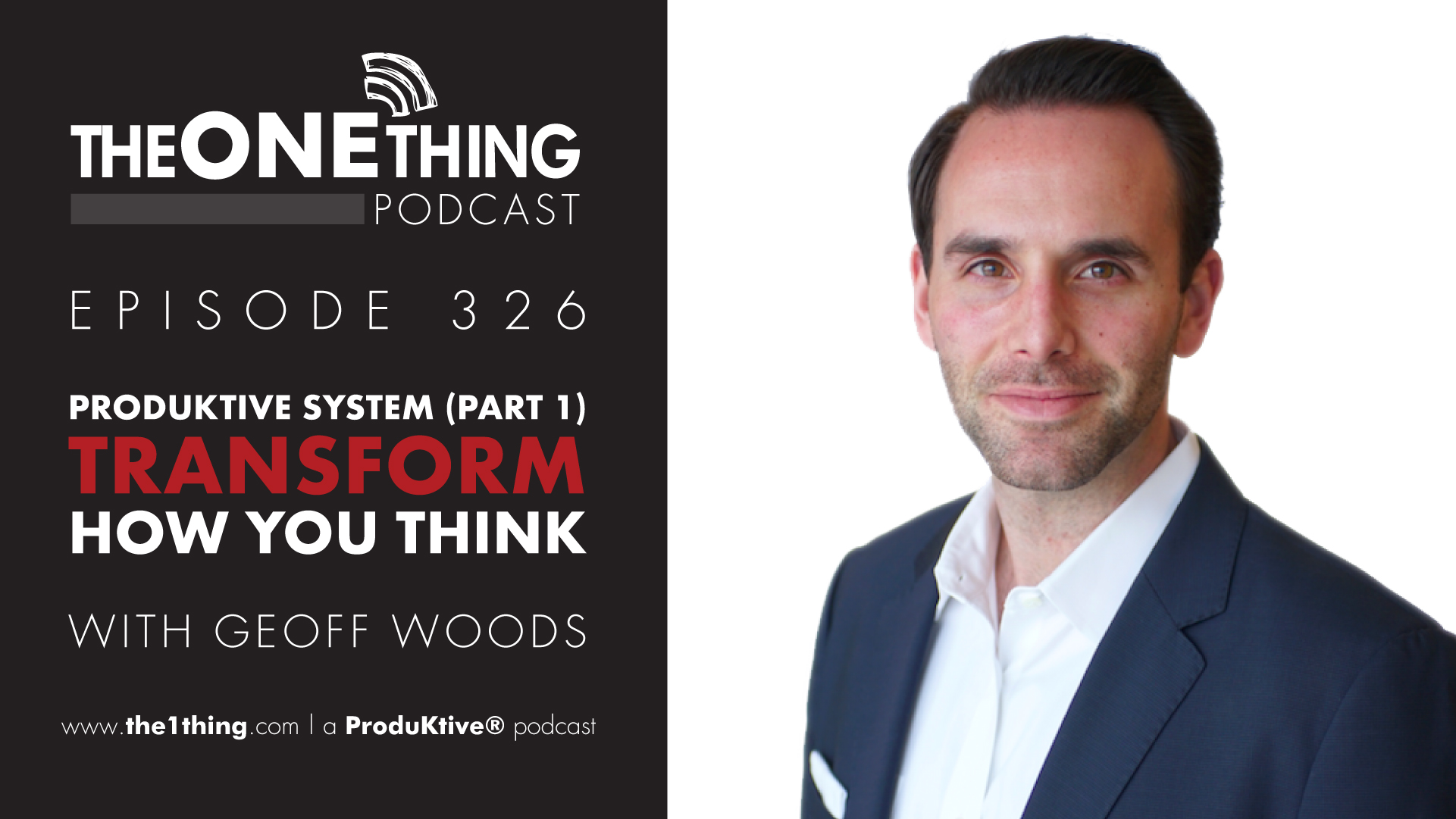 ProduKtive System (Part 1) – Transform How You Think
This is the first in a six-part series of episodes exploring the steps of the ProduKtive system. ProduKtive will change how you think for the better, allowing you to cast a stronger vision with bigger, more precise goals. 
In the subsequent weeks, we'll be looking at building a plan, learning to effectively prioritize activities, using time blocking to reflect those priorities, and building habits that make it all possible. But to start with, let's take a look at the lies of productivity.
Do you consider yourself to be a good multitasker? Is your instinct to tackle everything at once? If so, you're falling for the same myths so many people are tricked by when it comes to productivity. Studies show that we waste 28% of our time spent while multitasking. Just think how much time that is over the course of a year (it's weeks, not days). 
Unless you prioritize ruthlessly, you're losing time to multitasking. What's The ONE Thing you can do, such that by doing it, would make everything else easier or unnecessary?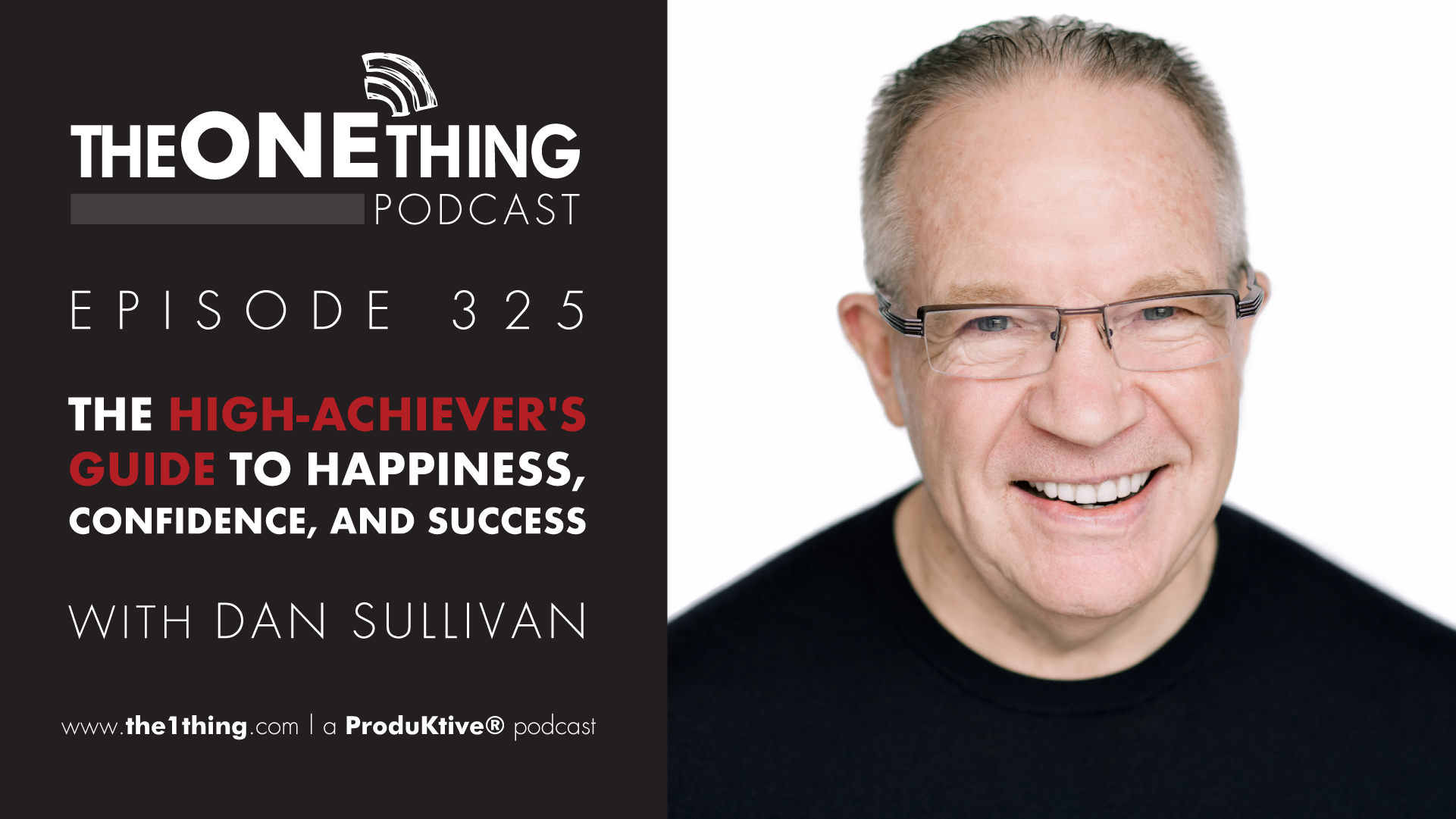 The High-Achiever's Guide to Happiness, Confidence & Success
Have you ever set goals that you thought would deliver you pure happiness once you achieved them – just to work hard, achieve them, and move on to the next without giving yourself a chance to feel fulfilled or celebrated? We all have and it's something we should work out of our productivity-laden routines.
How might we create more sustainable happiness on our road to achievement? Dan Sullivan has been working with business owners for decades under the program, The Strategic Coach, and was one of the pioneers of the coaching industry. We have a conversation around what it means to shift your perspective so you get out of the gap of dissatisfaction and live in the gain – where happiness lives.
We're always looking forward to the next goal, but we don't give ourselves the chance to celebrate the successes we've had. This is common among ambitious people. The problem with this is that it undermines our happiness in the long run. Backed by his world-class expertise and experience in the field, Dan helps us lay the groundwork for this profound shift toward fulfilment.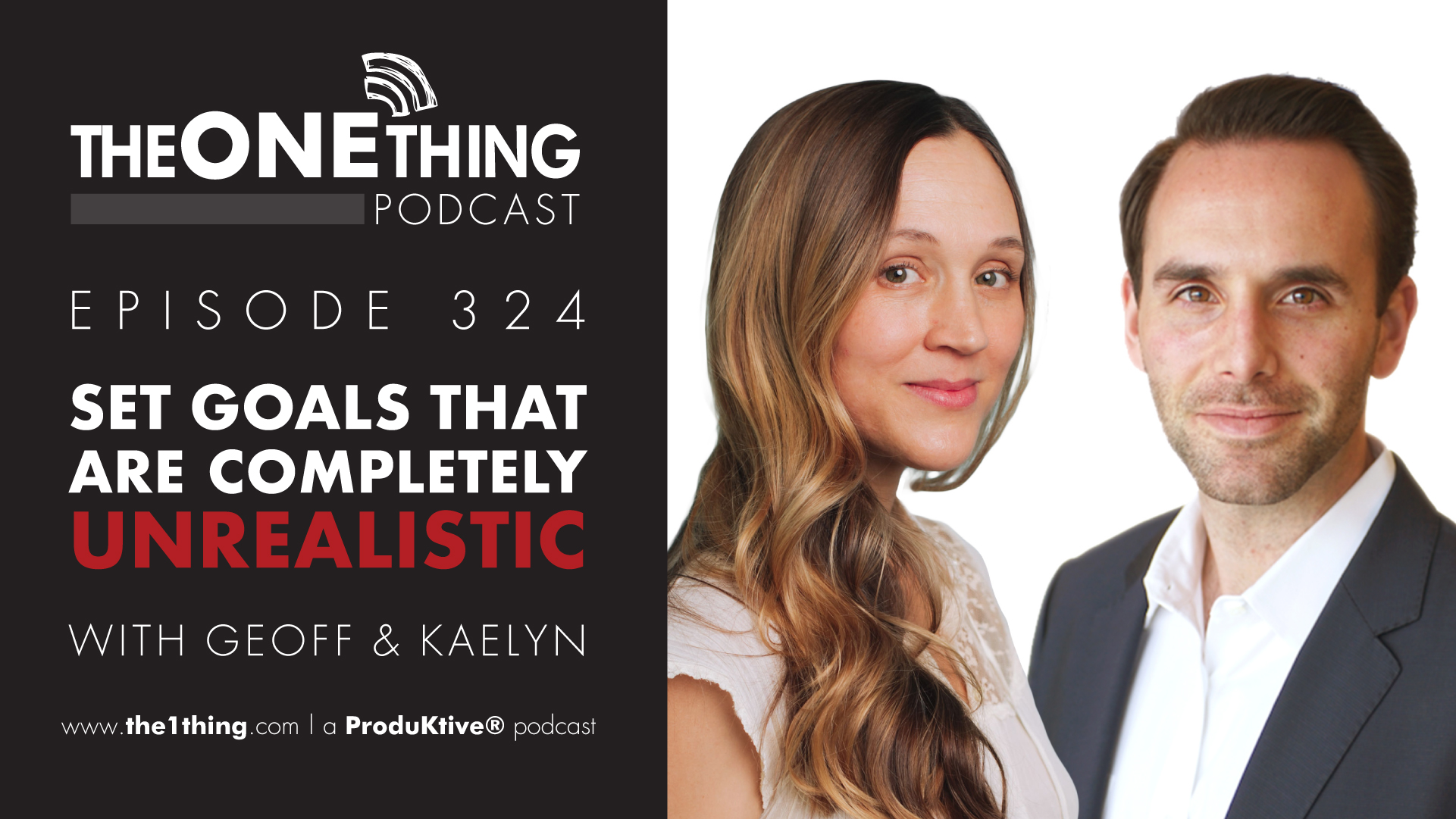 Stop Limiting Your Potential With Realistic Goals
We all know the importance of setting goals. We have to know where we're headed and what we want to achieve in order to get there, right? 
The problem is that most people don't know the best strategy for setting their goals. It seems obvious that our goals should be realistic, right? Wrong. It may seem counterintuitive, but, in reality, your goals should be wildly unrealistic. Reach for the stars. 
Another problem is the company we keep. Most of us surround ourselves with relationships and circumstance. But we should be striving to discover and bring specific people with specific qualities into our lives based on where we are at that point in time.