Martin Luther King Jr.'s strive for civil rights started with a bus strike in Montgomery, AL. The success of this first domino – the Supreme Court deemed segregated buses as unconstitutional – solidified his ONE Thing, to gain equality for African Americans and other oppressed peoples. In honor of MLK and his mission, we'd like to keep the domino fall running.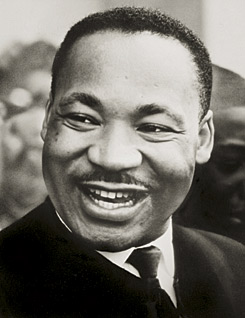 Six Ways You Can Keep Martin Luther King's Movement in Motion
The path to big change is made up of many small steps. In line with the annual Martin Luther King Day, keep the reverend's dream alive by achieving a small ONE Thing of your own.
Participate in a Day of Service. Since 1996 the Martin Luther King Day of Service has inspired millions to help others on the third January of each year. Find out what folks in your community are working on and jump in. Or, start your own service-oriented group to help your favorite cause.
Get educated. We've learned about it in school, and understand the overall idea of what it is, but take the time to read the definition of civil rights. You may be surprised at how all encompassing and crucial these rights really are for our pursuit of happiness.
Make a promise to vote in the 2014 elections. The right to vote is a significant aspect of civil rights in America. So show your support by taking the time to vote this year.
Share Martin Luther King's life story with your kids. Pick up a DVD, find a video online or check out a book at the library on the life and times of King. Make learning about civil rights a fun family activity.
Send a care package to the troops. Take the time to show the men and women that are protecting our civil rights how much you care.
Inspire others. Instead of sharing another cat vid you found on YouTube, post your favorite quote, video or image of Dr. King across your social media network and inspire others to take note of an important cause.
Have other ideas? Share your domino with us!
Image Source: http://moralheroes.org/martin-luther-king-jr
Original Source: http://www.the1thing.com/applying-the-one-thing/celebrate-civility-with-one-act