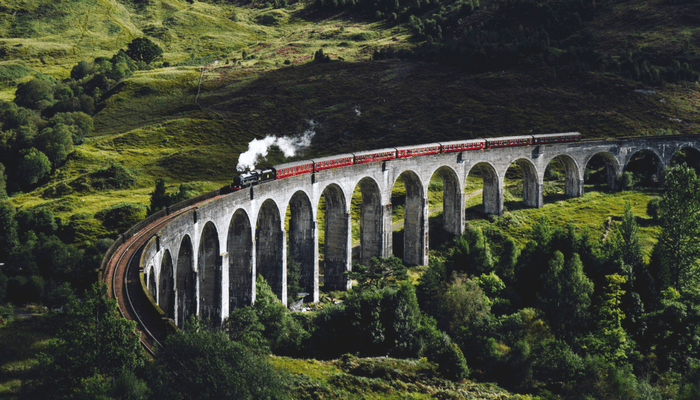 Have you ever wondered what it would be like to gain fame and notoriety for doing something completely ordinary? Well, that's the life Mark Smith found as The Man in Seat 61.
An author, speaker, father, and arguably one of the leading experts on modern train travel in the world, Mark makes his living riding trains. That's right. He rides trains for a living. To date he has traveled through the United Kingdom, Europe, Asia, Africa, The Americas, Australia and New Zealand. And he won't stop until he rides every single train in the world.  And his ONE Thing is to tell you about it.
How Mark Became "That Train Guy"
It was clear to Mark that he wanted to share his love of train travel with the world. But if you've ever traveled by train, you probably know it isn't always a piece of cake. Language barriers, different time zones, foreign currencies, sketchy websites that sell tickets, different companies running different legs of the same trip—it's all bad, even in 2017. These nuisances, he realized were the barrier to entry for most people.
Mark knows there is much more to traveling by train than sitting in a seat. You get a good look at the landscape around you, employees treats you like a real person, you get to sleep in a bed, eat in restaurants, and you have room to move around. You aren't violated by some guy in rubber gloves for forgetting to take your phone out of your pocket. There is a humanity and elegance to train travel – a  conviction that Mark wants to share with others.
His journey to becoming "that train guy" was clear and purposeful. It began when he "ran away" from the town of Oxford and joined British Rail. There, he spent a couple of years as a Station Manager for railway stations in London and as a Customer Relations Manager for two train companies in the United Kingdom. Later, he joined the Department of Transport.
His second domino was collecting information. During his tenure in the rail industry, he began creating the ultimate train guide, diligently keeping records and notes on his travels. But he needed a way to get the information he was gathering out to the public. That's where his website came into play.
While reading a book about HTML programming, he realized that a website was the perfect platform for him to achieve his goal. Finally, his is next domino took shape. Using the book as his guide, he created his own website dubbed "The Man in Seat 61" (an homage to Basil Zaharoff, the infamous arms dealer who always sat in Seat 61 on the Orient Express).
Mark's website isn't the most beautiful thing in the world. But it's clear that he knows what he's talking about. Because he chooses to live out his ONE Thing, it gives him validity with the audience he wants to educate. His domino wasn't to create something that looks good, his domino was to give himself a megaphone.
With a place for people to read his information, his ONE Thing became putting pen to paper.
He updated his website regularly, slowly gaining notoriety. In 2001 it was named Website of the Week by The Guardian. In 2002, it was recommended by The Wall Street Journal, and in 2004, it got its first mention on the BBC. Finally, in 2007 he was able to quit his job and run his website full time.
The site has become so much more than Mark ever thought it could be. Not only is it his job and business, it's an outlet for his ONE Thing.
Aligning Your Passion with Your ONE Thing
Mark's life sounds like a dream. We're not talking about the train travel aspect of his life (although, this train ride sure looks like a dream) rather, Mark has elegantly integrated the personal and professional parts of his life in pursuit of his ONE Thing.
But, the journey wasn't easy. His dominoes fell slowly. In Mark's eyes, the first domino fell when he started making money on the site. But, we don't see it that way — we think that would be putting the caboose in front of the conductor. His first domino actually fell much earlier — when he made the choice to pursue his passion and leave Oxford and join British Rail. That decision may not seem like a big deal to him, but it signifies that before he ever achieved his ONE Thing, he was living it.
The dominoes ahead of us may not always be clear, but if we submerge ourselves within it, we'll be putting ourselves in the best position to find the right path to take. Like Mark found, that's meant aligning his passion with his actions.
Ask yourself, "Are my daily actions reflective of my passion and ONE Thing? If that answer is 'no', then check out our My Purpose worksheet to figure out how you can realign yourself. If your answer is 'yes', then relax, stick to your goals, and keep whacking away at your ONE Thing.
Remember, like Mark's story shows us, success is built one step at a time.