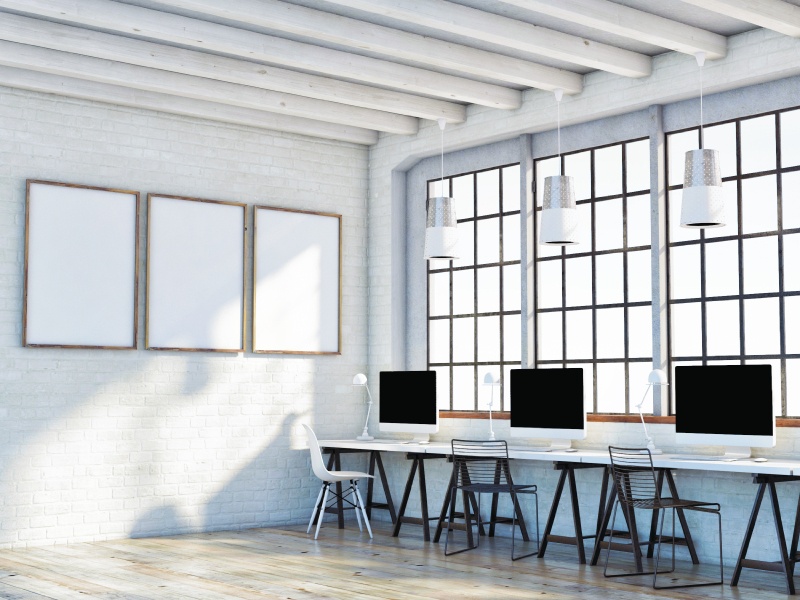 When we're young we learn the importance of sharing. That virtue (hopefully) sticks with us for life, but there are a lot of things that we don't immediately bucket into the "share" list. Our desk is usually one of them.
One of the latest trends in business is temporary office spaces. These are shared workspaces that can be scheduled and rented out for a short period of time. In the last few years, the demand for this work setup has steadily increased, largely because more people are telecommuting.
Instead of signing an expensive 3-5 year lease, shared workspaces can be rented out for a single day, week, month, or year. In other words, there's less overhead and more flexibility.
There are a lot of situations that lead people to look for a temporary workspace other than reducing fixed expenses. They provide you a low-cost solution for working on projects outside of the home, quick meeting spaces for new businesses, and offer a solution when transitioning to, or opening a new location.
If you're hesitant to venture away from the traditional working environment or your home office, consider what others who have tried office sharing have to say. Deskmag's 3rd Global Co-working Survey polled professionals that use co-working spaces and found:
71 percent of respondents felt their creativity had increased since using a shared space.
68 percent said they were able to focus better.
64 percent of people completed more tasks on time.
62 percent thought their standard of work had improved.
Perhaps the strongest indicator of co-working's popularity is the increase in businesses that are making a business out of shared office space. Deskmag's latest survey notes that the number of co-working spaces grew by 36 percent in 2015.
Now that there are more temporary workspaces available, it's easier than ever to find a shared office that can boost productivity while reducing overhead.
3 Ways to Find the Temporary Office Space for Your Needs
Finding a temporary workspace shouldn't be a problem with the right resources.  We've listed a few ways to find the right workspace for you below:
Small Companies Renting Extra Space From Big Companies
PivotDesk is based on the subletting concept. Essentially a small business or individual can rent out cubicles or desks in a large office for a flat rate. This helps small businesses and entrepreneurs find affordable workspaces and helps large companies minimize the cost of vacant space.
All-Included, Move-in-Ready Office Space
When things move along more quickly than expected for a startup or you're relocating a company, time is usually your biggest hurdle. In an ideal world, you'd find a place where you can move right in and start working. Regus is making that dream a reality.
Google and Amazon are among the many Fortune 500 companies that use Regus when they need a temporary workspace. The company has an extensive network of privateand shared offices within commercial buildings that are already set up and ready to go. All the Internet, utilities, etc. are included in the rental price, which makes securing a space quick and simple.
Space for Freelancers That Crave Human Interaction
Working on your own at a home office can get lonely. The answer? Become a member of a co-working space. Co-working spaces are purposely built to offer a temporary workspace to businesses and individuals that are paid members. They are often large open spaces that are set up with desks and all of the essentials.
In addition to short-term workspaces, these communities often host events and encourage members to network. But keep the number of members in mind before signing up. You'll want to make sure there's enough space and resources to go around.
With a temporary, shared office space there's less risk and commitment, but that doesn't mean caution can be thrown to the wind. You'll need to determine what kind of space will be most beneficial for your business. It's also important to consider the other types of individuals and businesses that you'll be around in a co-working space. And don't forget about logistics like parking and access.
The freedom and flexibility of a temporary or shared workspace has its benefits, but it can also be a drawback if you aren't able to reserve space when you need it. Anytime you're looking for a temporary workspace, ONE Thing that's absolutely necessary is a home base you can count on.