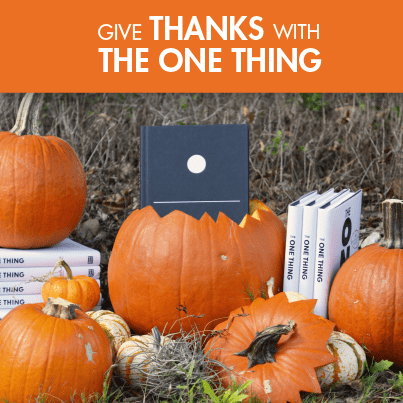 It's that time of year – the time when road trips and plane rides are frequent and inevitable. The number of long-distance trips increase by 54 percent around Thanksgiving, making it one of the busiest travel times of the year.
If you're anything like us, we know you'll want to keep yourself busy while you're traveling from Point A to Point B this Turkey Day. Whether you're traveling by planes, trains or automobiles, our holiday promotion presents the perfect way to pass the time. Simply buy 10 copies of The ONE Thing and get a free audiobook!
Sitting at the airport? Read the book and share copies with your family and friends to occupy yourself while you wait for your flight. Stuck in traffic? Lessen the back seat commentary on your driving skills by turning on the free audiobook you received with your purchase and let everyone soak in the lessons of The ONE Thing. This promotional offer gives you the chance to not only learn how to focus on what matters most in your life, but to help your loved ones learn how to filter out distractions and set their own goals.
Share The ONE Thing this Thanksgiving by taking advantage of this delicious promotional offer and let others thank you for the clarity you provide in their own life journeys.