Working from home, even if it's only now and then, is becoming more commonplace thanks to the internet and growing communication technology. But being able to access the web isn't the "end all be all" of working out of your house. You need a space that promotes productivity, but still doesn't interfere with the life of your family members.
From lack of square footage to summers when the kids are home, there are many thieves that can make creating a workspace in the family home a job in and of itself. However, if you plan to work from home, creating a productive workspace needs to be your ONE Thing. With the right setup you can earn more, achieve better results and get more done in less time so you can get out of the home office and spend more time with your family.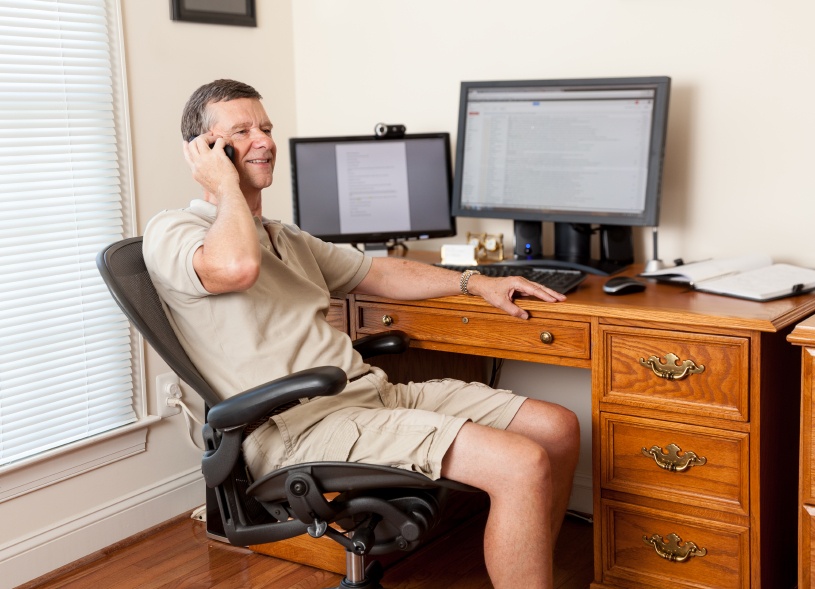 Choose a Location with Close Proximity and Complete Separation
To work from home you must have your own dedicated workspace. Choosing where your workspace is located is possibly the biggest determining factor for productivity. The work you do will influence the space you use; however, anyone who works from the family home can benefit from a space that:
Incorporates sound control from outside noises. A study commissioned by the American Society of Interior Designers (ASID) discovered that the vast majority of workers said their productivity would increase if noise decreased.
Uses glass French doors instead of solid options. That way you can monitor what's happening in other areas while still sitting at your desk.
Has a window where you can see out to the backyard where your kids are playing. Having a window in your office has also been shown to recharge a person's creative side.
Allows you to position your desk so that you can easily see other spaces, yet don't have them front and center.
Is out of high traffic areas where others can come through and distract you.
Ditch the Distracters
No matter how well-designed a workspace is or how many top-of-the-line pieces of equipment and systems you have, if your space is full of distracters your productivity will suffer. When you're working from home the distracters are many and often within reach. Purge the space of everything that isn't work related. Televisions are a definite no-no, but even something as unassuming as a cat crate can lead to distractions if you have a feline friend that likes to make desk detours.
Invest in a Desk
It's a simple flat surface, but it can make a huge difference. Just having a desk gives the space a work environment feel that everyone in the home will perceive. That is reason enough to make a desk the centerpiece of your office.
Worried it will just become a catchall for clutter? Research out of the University of Minnesota has shown that a messy work area can actually aid in imaginative thinking. In The ONE Thing it's noted that the fear of chaos is something to overcome and embrace because it's inevitable when you're focused. The real takeaway is that a desk is a psychological signifier for work whether it's neat and tidy or messy.
Design a Space Where Everything is Within Reach
The most productive workspaces, whether they are in a home or in an office, are outfitted with all the tools a worker needs to complete their job. Anytime you lack a necessity, production comes to a screeching halt. If you have kids, stepping outside of your designated work area to get what you need can cut into both your time and productivity.
The team behind Identity Realization workplace consultancy found in a 2010 study that simply taking ownership and control over your workspace could increase productivity by up to 32%. It's just one more reason to set up your office so that it's your space and makes working from home as easy as possible.
Respect the Workspace
To ensure you have a supportive work environment, you'll need to have a serious family discussion about respecting the workspace and your work goals both while you're working and away from your desk.
Establish work hours where everyone knows that you need quiet, uninterrupted time to focus.
Create signs that can be put up to signal when you're working and can't be disturbed, when absolute quiet is needed and when you're taking a break.
Set up ground rules for issues that should be brought to your attention immediately and what will have to wait until you're done with work.
Suggest that family members send you an email instead of swinging by the office or calling you.
When the lines between work and home are blurred quality time with the family can suffer, even if you see them more. Multitasking isn't the solution, because then both work and family time aren't given your full attention. Instead focus on taking control of your workspace and eliminating time thieves to create a home office that allows you to be as productive as possible at your job so fewer hours are spent working.
Do you have any experience working from home? Tell us how you protect your work area in the comments below!
Original Source: http://www.the1thing.com/the-one-thing/setting-up-a-space-where-you-can-work-from-home/