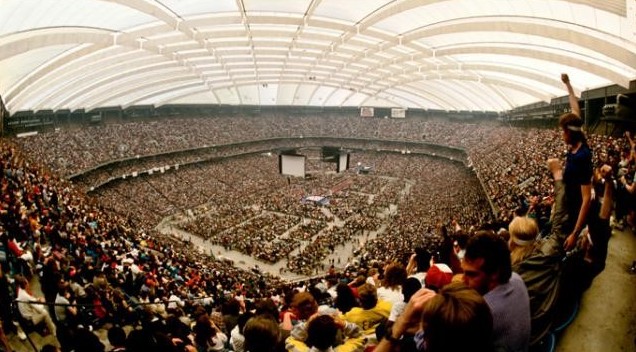 World Wrestling Entertainment (WWE) Chairman Vince McMahon built his empire, once valued in the billions, on the concept of identifying the ONE Thing that would make everything else easier or unnecessary. And like everyone else who follows their ONE Thing, he encountered some difficult choices and situations along the way to power through in order to become successful.
Disrupting His Industry
In the early 1980s professional wrestling began to see an increase in popularity with multiple regional organizations promoting live shows to captivated audiences. The regions had tight-knit borders that were ruled by wrestling promoters, who all had an unspoken agreement that each region would stick to their area or risk territorial war. It wasn't until Vince McMahon purchased controlling interest of his father's wrestling promotion company, the World Wrestling Federation (WWF), that anyone dared to expand their acts into neighboring regions.
With a vision for a national audience, Vince made it his ONE Thing to expand, and began working on getting his show on syndicated television across the United States – a move that angered regional wrestling troupes. A testament to the roadblocks standing in the way of his ONE Thing, McMahon stated in a documentary that his father would have never sold him the company if he knew his intentions.
"He probably would have said, 'Vinny, what are you doing? You're gonna wind up at the bottom of a river'," McMahon explained.
WrestleMania
The risk paid off. After a few years of breaking down regional barriers and promoting national acts like Hulk Hogan, Vince began to seek out bigger and better things for the now-national brand. On a vacation with his family, he dreamed of WrestleMania, a sporting event reminiscent of the Super Bowl, where the only way you view the event is either to watch it live or pay for it through pay-per-view.
Mortgaging off everything they owned, Vince and his family went all in on the idea – it became their ONE Thing. If the event was a hit, the WWF, Vince and his family would have a bright future ahead of them. If the event failed, they would need to start over again from scratch. Securing Madison Square Garden in New York City for the first inaugural event and advertising the show around its main event – a tag-team match between Hulk Hogan and Mr. T – the first WrestleMania was an assured success.
Shattering Records
Again, the risk paid off. Two years later, the peak of the '80s wrestling boom would be centered on WrestleMania III and the WWF at the Silverdome in Pontiac, Michigan, where Andre the Giant and Hulk Hogan would duke it out in front of 93,173 fans, breaking the attendance record for a live, indoor sporting event. This, combined with a commanding revenue stream from pay-per-view events, lead McMahon and his empire, now known as the WWE, to be valued in the billions at its peak.
Follow Through with Your ONE Thing
Oftentimes when we identify our ONE Thing, we are faced with challenges that will cause us to question its viability. However, when we've walked ourselves through the focusing question, "What is the ONE Thing I can do, such that by doing it everything else would be easier or unnecessary?" we can be assured that the task at hand is the one that will drive us toward success – no matter the potential risk involved. For Vince McMahon, his ONE Thing was clearly the live sporting event that rocketed his empire toward massive recognition and fortune.
What obstacles have you had to face in pursuit of your ONE Thing? Share them in the comments below!
Original Source: http://www.the1thing.com/the-one-thing/vince-mcmahon-and-his-one-thing/