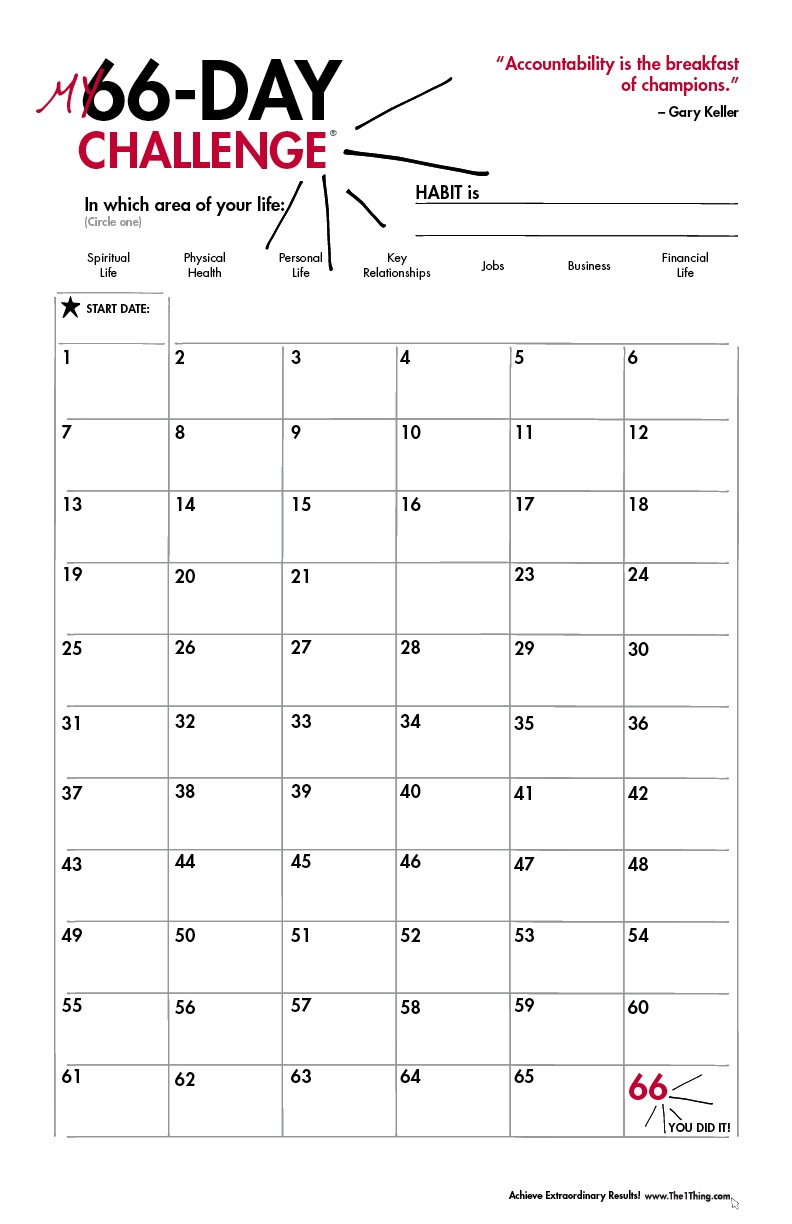 Have you taken a personal 66-Day Challenge? Is it time to embark on a new one? We've gotten a great response from individuals that used the challenge to form a new habit in the past and we're not stopping there. That's right. Groups, departments and even entire businesses can get on board with a 66-Day Challenge of their own to focus on their collective ONE Thing.
A Little Bit About the 66-Day Challenge
If you aren't familiar with the 66-Day Challenge you may have some questions. Like, why 66 days? It's because research has shown that's how long it takes on average to create a new habit.
We developed the 66-Day Challenge with the goal of helping people change their lives for the better by making it easier to build habits. The secret is consistency. In order to form a habit you have to make it a part of your daily activities until the habit becomes second nature. We've created tools and provide support that can keep you on track and motivate your team to stick with it until the habit has stuck.
Adapting Your Goals to the 66-Day Challenge
Adapting goals for your company or department to the 66-Day Challenge is easy. Actually, it may be even easier than doing it on your own since you'll experience more collective accountability and all participants will have the same or similar professional targets during the challenge.
Start by Identifying Your Habit
Get your team together to discuss the ONE Thing that's needed to hit your upcoming goals. If you haven't done this yet use the Focusing Question to figure out your ONE Thing. Because of the time frame involved,consider using the 66-Day Challenge for hitting a new quarterly goal. It can also be helpful for helping you to think more long-term, for example changing the way email is used in the office to improve efficiency.
Once you've established your ONE Thing, next decide what habit(s) are needed to make it a reality. See if there's a habit the team can do collectively or if each person should work on their own habit.
Establish Habit Parameters and Time Blocks
After the habit has been selected you'll need to go a step further and define what counts as completing the habit each day. It's also a good time to figure out when to work on the new habit. Time blocking and doing the new habit at the same time each day will help you fit it into your normal routine.
The tricky part for businesses is following through on days when group's routine differs, such as those days that the office or storefront isn't open. Your team will need to be committed to forming the habit even on their off days, if possible.
Begin Tracking Your Progress
Now that you know what habit everyone will work on it's time to launch the 66-Day Challenge and start tracking your progress.
The 66-Day Challenge Calendar
We've created the 66-Day Challenge Calendar to help your team define and track its goals. It condenses the 66 days' worth of time into one handy document so that your progress can be tracked all in one place. The calendar is free to download and share with your entire team.
Since this is the epicenter of your progress, print out the calendar and place it in an area that's visible to the entire team. It will serve as a daily reminder of what you're working towards. If each team member is working on their own habit hang the calendars side-by-side so you still benefit from the accountability.
On day one of the challenge write your team's habit in the space provided (or each person's if going the individual route). Every day check with your team to see if you hit your habit goal. If so, mark that day with a nice big X.
Do your absolute best to not break the chain of Xs. As we've said, the secret to habit building is in the consistency. As you regularly go through the motions to complete your task, it will get easier and easier to do so, until you realize you're not even thinking about making that "X" on the calendar. This is when you know that you've succeeded in establishing a new habit.
At the end of the challenge get your team together for a follow-up meeting. Discuss how easy or difficult it was to form the new habit(s) and how it's had an impact so far. Forming new habits is never easy, but the 66-Day Challenge makes it simpler to track and a lot more fun along the way.