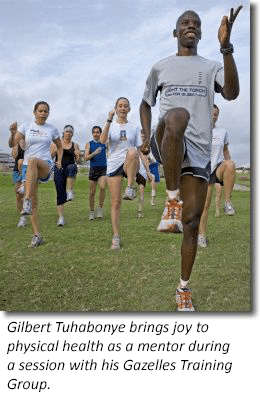 It's easy to see that for Gilbert Tuhabonye, running brings him joy. It's an infectious feeling you can't help but adopt when you're around this world-class athlete. And, joy is what he has used to build the physical health philosophies he now shares with so many others.
Despite the struggles Gilbert has faced in life, the focus on joy is what he finds to be key in a person's health. It's also what he says is an important part of finding the right mentor.
Gilbert's Beginning in Burundi
If it had not been for running, Gilbert may not be here today. During his senior year of school in Kibimba, Burundi, Gilbert was on track to be one of the world's best runners. He was already a national champion, and his sights were set on getting a scholarship at a US college where he could gain an education. But before that happened, Gilbert found himself in the middle of a centuries-old war.
Gilbert's family was part of the Tutsi tribe, which had been at odds with the Hutu tribe for hundreds of years. In 1993 the violence bled into Gilbert's school when a group of Hutu attacked the Tutsi students. He was the sole survivor of a massacre that claimed the lives of more than a hundred of his fellow classmates and teachers. Gilbert was able to escape the burning building, and though his feet were burned he was able to run to safety.
Turning Tragedy into Triumph
When he began running as a boy, Gilbert couldn't have imagined how important his role in people's physical health would become. The burns that Gilbert suffered from the attack on his school didn't hold him back from getting a scholarship to Abilene Christian University. There he became a national champion and gained notoriety for his talents as well as his perseverance.
Gilbert has since made a career out of sharing his love for running, and today he owns and operates Gilbert's Gazelles in Austin, TX. Through his writings and teachings he has become one of the most respected mentors in the sport, known throughout the world for his positive approach. Running has also brought him full circle back to his home country of Burundi, where his charity organization The Gazelle Foundation digs wells to provide locals with much-needed clean water.
Gilbert's Advice on Finding a Health Mentor
When asked what the best part of his job is, Gilbert answers teaching people what he loves. "I love seeing the results," he says. "I love to bring joy to people by teaching them how to run with joy. In the Gazelles there have been so many people that reach their goals – lose 100 pounds, finish a 5K, finish a marathon, qualify for Boston. Whatever their goal is it's a blessing to help them achieve it."
It's this passion and caring that inspires the people that Gilbert mentors. From the students he coaches at St. Andrews High School to the Gazelles he trains to his fellow runners that join him in the annual Run for the Water races, Gilbert's joy keeps everyone moving in a positive direction. So, it makes sense that his advice for anyone looking for a health mentor is to find "someone that will inspire you to do greater things and also make it fun."
His ONE Thing for physical health is simple yet powerful. "Find joy," says Gilbert. "When you find it, everything else becomes more fun, more exciting. It won't be easy, but it will be joyful."
Original Source: http://www.the1thing.com/applying-the-one-thing/gilbert-tuhabonye-inspiration-from-a-happy-health-mentor