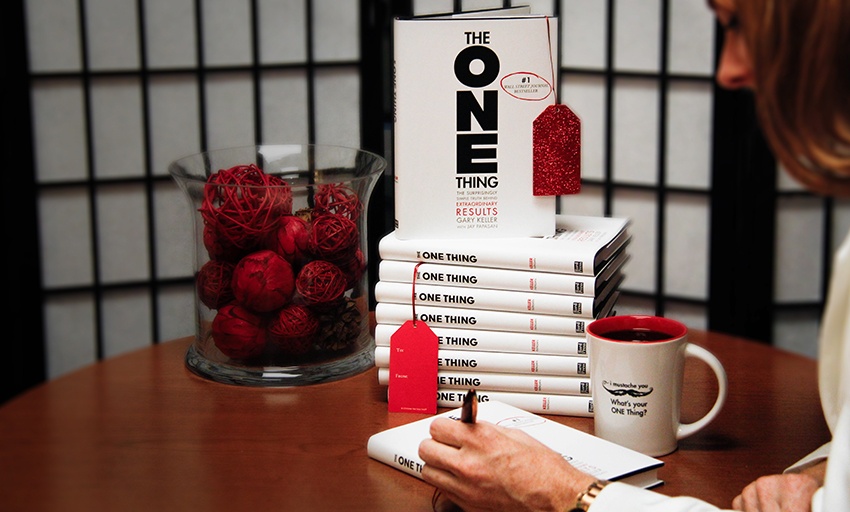 As the holidays draw near and we begin getting our gift-shopping list together, who is the one person you want to buy The ONE Thing for?
Gary Keller and Jay Papasan wrote The ONE Thing with the hope that others would realize the same benefits they have found through focusing on what matters most. It isn't just about succeeding in business, it's about succeeding in life. It's a book that's meant to be shared so that others around you can find their ONE Thing and at the same time, become a part of your ONE Thing.
If you've already read The ONE Thing, then you know the chapter "Putting the ONE Thing to Work" provides a blueprint for putting the concepts of the book into action in your personal, family and professional life. This brings your co-workers, friends and family members into your ONE Thing. By sharing your ONE Thing with others and encouraging them to find their own, you're starting a Domino Effect that can result in amazing outcomes for everyone. In a lot of ways, The ONE Thing is the first domino.
The book details insights and experiences that have led Gary Keller to become one of the most successful people in the real estate industry. But the ideas in the book transcend any one type of business or area of life. No matter what your gift recipient wants to accomplish, they'll find the path to take, the questions to ask and the ONE Thing that needs to be done first to make it happen.
Getting copies for your team members at work or your family members at home can get everyone on the ONE page. Having regular discussions about The ONE Thing's concepts can help everyone build good habits. There's no better gift than giving someone the ONE Thing that will help them get everything they want in life.
Are you planning on giving The ONE Thing to a special someone? If so, take advantage of our holiday special and then tell us who you're planning to gift it to!
Original Source: http://www.the1thing.com/the-one-thing/giving-friends-and-family-the-one-thing-this-holiday/