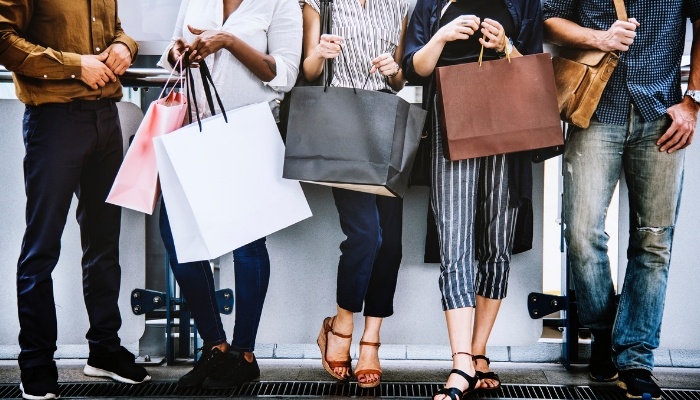 You've had your fill of turkey, and now you're ready to get your shop on. So, you bundle up and grab a spot in line, waiting for the stores to open. Black Friday is an alluring proposition: all the stores peddling some of the lowest prices of the season. It can seem like the best time to head out and get started on your holiday shopping.
But in reality, Black Friday doesn't always have the best deals. In fact, there's been a fair bit of evidence that suggests Black Friday isn't the best day to get great deals at all. So if you're eying a few items, you might want to hold off for the sake of your finances. Instead, we've given you a few tips on how to get the best bang for your buck year-round.
Leverage Sales Year-round
After the Great Depression, the day after Thanksgiving slowly gained popularity among people as a day for rest, shopping, and celebration. In the city of Philadelphia during the 50s and 60s, people would flood the streets of the city to shop and watch the Army-Navy football game. Among police officers, the day earned the name "Black Friday" – in honor of all bodies bundled in dark coats hitting the streets. The name stuck, and by  the 1980s stores everywhere were using the name to invite shoppers in for some of the best sales of the year.
Today, everyone talks about Black Friday with a sense of awe (and occasional trepidation), butnthere are actually plenty of other incredible sales that happen throughout the year. Instead of simply waiting to do all of your holiday shopping in one go, it can be a smart move to strategically plan your shopping around other big sale events.
· Presidents' Day – February
Why is Presidents' Day one of the best times of the year to get anything bed related? We're not sure, but it is. From mattresses to down comforters, a number of stores offer incredible discounts nationwide. If you've had your eye on a new bedframe or want to (finally) upgrade to that purple mattress – now is the time.
· Memorial Day – May
If you're looking for steals when it comes to appliances, Memorial Day is tough to beat. Historically, retailers use this time of year to sell big-ticket items for both inside and outside your home. In fact, as one expert noted, "Historically, this holiday weekend is fantastic for savings on a ton of big home items."   From dishwashers to microwaves, you're likely to find major discounts on all household appliances at stores around the country. This past year, stores likes Lowes and Home Depot were offering as much as 40 percent on major items, and many stores also offered free or decreased shipping costs. While Black Friday definitely offers good deals on appliances, most places can't beat the kind of discounts you see on Memorial Day.
· Labor Day – September
Labor Day is one of the best times of year to get great deals on clothes. It's a big seasonal change for most department stores, and companies are looking to ditch their back-to-school leftovers. If you're looking to pick up basic summer staples like shorts or swimsuits, there's no better time than Labor Day.
· Amazon Prime Day – July
For the past four years Amazon has been hosting Amazon Prime Day, an incredible online event where a myriad of products from electronics to books have their prices slashed. This past July, Prime Day broke records as the largest single day of sales in Amazon's history, with over 100 million products sold worldwide. If you're looking for a great deal on anything from camping equipment to an Instapot for yourself or your family – there's no better day to grab one (with free shipping) than Prime Day. Dates for Prime Day 2019 have yet to be announced, but if you're still wanting a great Amazon deal – the company is extending free shipping to non-Prime members through Christmas.
· Cyber Monday – November
The younger, flashier cousin of Black Friday, Cyber Monday grew out of the internet age. With the advent of online retailers and an increase in consumers participating in online shopping, many companies began creating their own cyber sales on the Monday following Black Friday. At this point, Cyber Monday sales often last whole weekends and stretch into the week, offering online shoppers bargains on a number of different items. If you want to skip the lines and still grab some great gifts – Cyber Monday is right for you.
· Free Shipping Day – December
Yep – Free Shipping Day is a real thing. Started in the late 2000s by Luke Knowles, Free Shipping Day was inspired to help all the procrastinators of the world get their gifts purchased and to homes in time for the holidays. Over the years, the number of stores that have agreed to participate in free shipping day have grown exponentially, encouraging billions of dollars in sales in the United States alone. Visit FreeShippingDay.com to see the full list of participating partners for Free Shipping Day.
Upgrade Your General Shopping Game
Saving money on big sales days is all well and good, but there are plenty of ways we can save money on a daily basis. If you're wanting to save a little extra cash or get the best deals when you're out shopping, here are a few important tips and tidbits to keep in mind.
Strategically Grocery Shop
Grocery shopping is, more often than not, viewed as a chore. We put together our lists for the week, grab our reusable shopping bags, and head to the store on Sunday so we can have our meals prepped for the upcoming week. But according to research from Ibotta, a cash saving app that tracks retail prices, grocery shopping on weekends is actually the most expensive time of the week. Instead, compile your list and spend key days throughout the week picking up the items you need: Tuesdays beverages like wine run around 4 percent cheaper, Wednesdays are when bread and beer prices are reduced, snack foods are cheaper on Thursdays, and Fridays are the best time to get produce and ice cream.  So, when it comes time to start grabbing goods for your holiday entertaining this year – get a head start on some of your buying by picking the best days to grab everything you'll need for your feast at the lowest possible prices.
Technology is Your Friend
While online shopping has definitely taken off, there are plenty of other ways we can use technology to our benefit when it comes to saving a few bucks. Apps like Ibotta and Flipp work with a number of different businesses, allowing you to snag offers and get cash back every time you go shopping online or in person. You can even use virtual extensions like Honey, a Chrome extension that applies a number of discount codes and coupons from partnering companies, in order to save a few dollars at checkout. There are also a number of apps like ShopSavvy, which allows you to scan barcodes, compare prices, and located where a particular item is being sold for the best price.
Be an Opportunistic Shopper
Shopping smart isn't just about knowing the best days to buy produce or using coupons, it is about knowing when things are going to be discounted. Want to buy some cute Easter decorations for next year? Wait until the day after Easter. Hoping to grab some jewelry for your mom for Christmas? Grab a little something extra around or after Mother's Day. From year to year, most sales patterns follow cycles. And waiting until after an event to grab something for next year is a smart way to make sure you have fun, new gifts or decorations for the future without having to pay full price. Got any other tricks for shopping? Tell us on our Facebook page!