The whole point of a vacation is to relax and reenergize yourself, which is important not just for your own sanity, but to make you more productive when you're back on the clock. For many people the act of planning a vacation can be a time-consuming endeavor that leads to a lot of stress. However, it doesn't have to be. There's likely an app for that.
The latest and greatest vacation apps help you plan various parts of a vacation and let you control everything from your phone or tablet. Check out the apps below to more efficiently approach your vacation planning so you can reap the relaxation rewards right from the start of your getaway.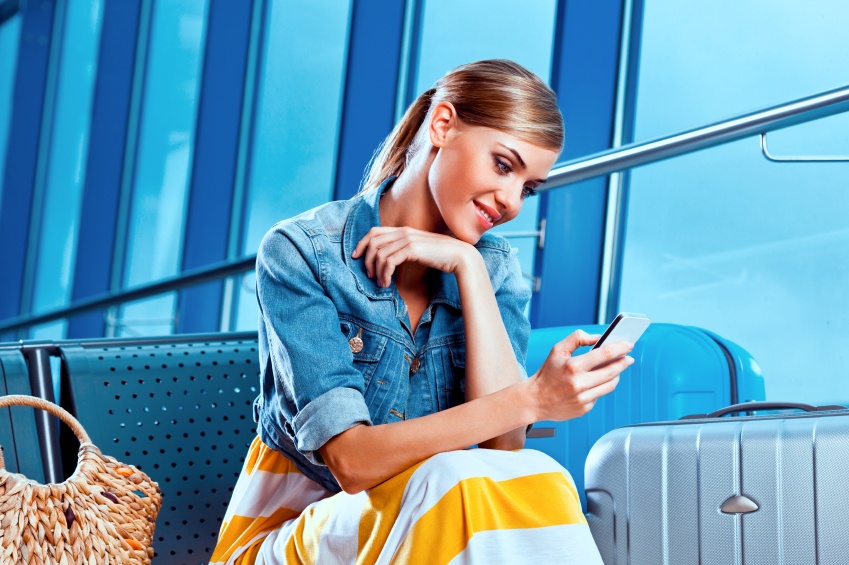 Apps for Getting There
Before you hit the road or take to the skies, line up your travel plans using an app. The benefit is you stay connected in the case that there are any changes, delays or cancellations to your travel itinerary. There are a number of location specific apps that you can download before you take your trip so that you're ready to hit the ground running as soon as you reach your destination.
Expedia
If you're a frequent traveler you've likely used Expedia.com, but did you know you can get additional flight, car rental and hotel deals exclusively through the company's app? You'll get almost all of the features and tools you can find on the site and then some.
Works with: iOS, Android
Kayak
Search, compare and book travel all with one app. Kayak has continued to be a standout in a sometimes oversaturated market of travel comparison websites, and their app is just as handy. Deal hunters will love that they include offers from everyone, even competitive companies like Orbitz.
Works with: iOS, Android, Kindle, Windows Phone
Apps for Lodging
In an age where businesses like Starwood Aloft Hotels are allowing people to check in with their smartphones and bypass the front desk, apps are an easy way to manage every aspect of travel accommodations.
Hipmunk Flight & Hotel
For a true comparison of all the available accommodation options there's no better app than Hipmunk. In addition to the standard hotels and lodging, Hipmunk also includes alternative options like Airbnb. It saves you time letting you search everything all at once.
Works with: iOS, Android
Orbitz
Getting the best rate on a hotel is what Orbitz does best thanks to their price guarantee. If someone else gets the same room for less you get a discount as well. The company has been around longer than many other travel sites and has built a solid reputation for honest dealings. Their app definitely comes in handy during the initial vacation planning phase and if you need to make last minute travel arrangements after your trip is underway.
Works with: iOS, Android, Kindle
Apps for Sightseeing
Figure out what you want to see and do before you get there with the help of a few apps. There are a lot of options for discovering more about your destination so you can plan a tentative itinerary.
RoadTrippers 
If you're taking to the open road this is the app for you. Not only can RoadTrippers help you locate cool things along your route, but it can also help you create an itinerary. It provides powerful tools for plotting out your route that go well beyond Google Maps. Create lists of things to see and then sync them with the map so you can see where they are along the way.
Works with: iOS, Android
TripAdvisor Offline City Guides
Not only can you create a list of what you want to do during the vacation, you can also map things out with the TripAdvisor Offline City Guide app.
Works with: iOS
Gogobot
Plan out your sightseeing based on the type of traveling you plan to do. Simply select options like family-friendly, shopping or adventure to have suggestions served up. Gogobot offers a quick and easy way to build an itinerary that's centered on who you are as a traveler.
Works with: iOS, Android
Apps for Keeping in Touch
The point of a vacation is to get away, but practicality and safety both need to be factored in. Depending on where your travels take you, keeping in contact can be very expensive, or even impossible, if you don't get one of these apps ahead of time.
Viber 
Make free calls, texts and video chats anywhere in the world over WiFi or 4G for free. The only catch is that the other person has to have the app as well. During your vacation preparations, designate a few different people as your travel contacts and get them to set up Viber on their phones as well. That way you can let people back home know you've arrived safely or get a hold of someone if there's an emergency.
Works with: iOS, Android, BlackBerry, Windows Phone 
Word Lens
There is no need to pack a translation dictionary when you've got the Word Lens app. Simply take a picture of any sign, menu, etc. and watch the app translate it into your native tongue automatically.
Works with: iOS, Google Glass

One of the residual benefits of all these apps is that they allow you to keep everything organized without having to pack up your laptop and other electronics. It's not a complete technology retreat, but apps do help you untether some of your devices during the vacation so you travel without being attached to a power cord.
Original Source: http://www.the1thing.com/time-management/plan-your-vacation-with-these-useful-apps/