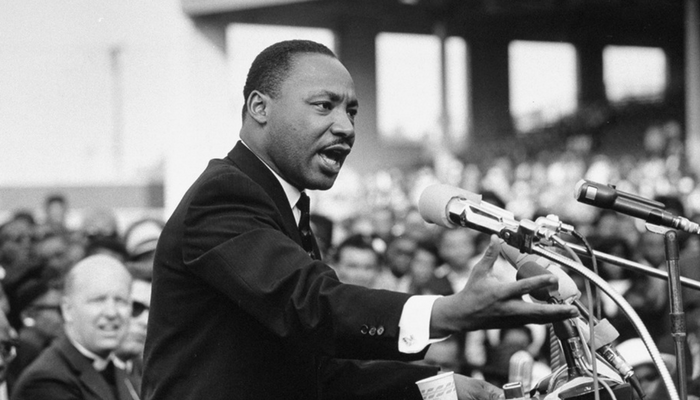 When we reflect on Dr. Martin Luther King, Jr we think of his role as a passionate and inspired leader of civil rights and freedom. We remember the progress he made for equality while pursuing nonviolent tactics. Dr. King was a powerful speaker. Known for his uplifting and convicting words, he could inspire legions of people into action and protest to fight for their freedom. However, while many believe that his talent fell in improvisation, the truth is that even his greatest speech was the product of deliberation.
Dr. King's famous 1963 "I Have a Dream" speech, given to 250,000 protestors during the March on Washington in Washington D.C, was one of Dr. Martin Luther King Jr.'s most extraordinary achievements. But before that, it was a goal. When he took the stage, he wanted a "sort of Gettysburg Address" in hand. That's because Dr. King understood that success is sequential. In order to achieve our goals, we have to line up our priorities and actions in a way that lead to our desired outcome.  And this speech was no exception.
Dr. King was known for taking only brief notes to reference during a speech. In fact, people often believe that this speech was written mere moments before it was given. But while it's true that he kept working on it until the early hours of the morning, the speech was anything but spur of the moment. It took time and preparation to deliver the speech we remember today. He broke the speech into smaller chunks and then combined it into a larger whole. The preparation, planning and practice were all dominoes knocked down one by one to create one of the best speeches in American history.
Giving a speech with the same impact as the Gettysburg Address requires thought and research. So when contemplating his method, the first thing to note is Dr. King's attention to detail. He researched extensively, referencing many sources and citing works from Abraham Lincoln, the constitution and the bible. His research took full advantage of his stage, which would be on the steps of the Lincoln Monument and overlooking the Washington Monument. When he would make a reference to the work of Lincoln or the promises of the founding fathers, his entire audience, those in the crowd and those in home, would be able to see depictions of their shrines and faces — magnifying its effect.
Another piece of the puzzle was the people Dr. King surrounded himself with, who would help him succeed. For instance, Stanley Levison and Clarence Jones, two of his advisors, helped him write early drafts. As Jones said, "When it came to my speech drafts [King] often acted like an interior designer. I would deliver four strong walls and he would use his God-given abilities to furnish the place so it felt like home." In other words, he didn't succeed alone.
Even up to the finish line, Dr. King relied on the input of others. In fact, the famous "I Have a Dream" line wasn't in the paper that he brought on stage. As a leader and pastor, Dr. King used what are called "set pieces" in his sermons and speeches. He had bits of oratory based on anything that caught his attention from bible stories to hymns. He would pull these pieces from his repertoire and use them again and again, knowing they resonated with the audience. This speech was no different. Dr. King didn't plan to use this set piece in his speech at the Washington Monument. But while he was speaking a gospel singer by the name of Mahalia Jackson called out, "Tell'em about the dream, Martin." It turns out, she had seen him deliver this set piece before. Soon after, he put his paper aside and began to deliver the "I Have a Dream" stanza that he had used many times in the past. As Adam Grant writes in Originals, "Although the memorable lines about the dream were improvised, Dr. King had rehearsed variations of them in earlier speeches." Because he had used the "I Have a Dream" material in the past Dr. King was prepared. He had already knocked over the domino he needed that day to be a success. The refrain went down in history. In many ways, the outcome of Dr. King's speech was a team effort.
In The ONE Thing we discuss the importance of surrounding yourself with the right people. Having the right people in our lives creates accountability and elevates our work. With the right people by his side, Dr. King was able to achieve extraordinary results.
The greatness of Dr. Martin Luther King Jr.'s speech, like a grand slam at the ballpark, was not a one-time fluke. It was the culmination of a series of dominoes Dr. King set up and knocked down in the work leading up to accomplishing this ONE Thing. What can you do to prepare for your own extraordinary moment?