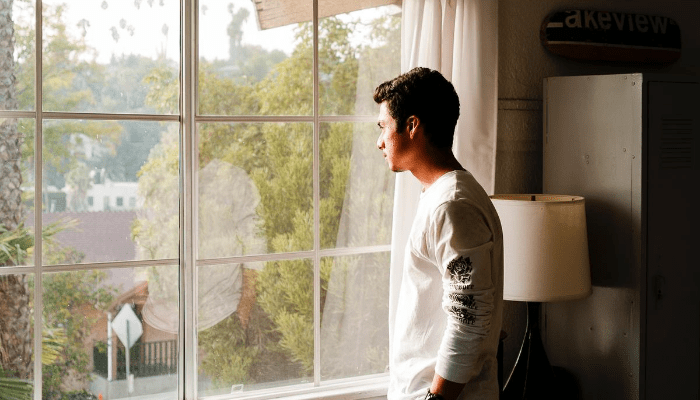 The pandemic has turned many of us into social astronauts. At least, according to podcaster Bim Adewunmi.
In a recent This American Life episode, Bim compares herself to an astronaut in space. She doesn't have a partner, children, family members, roommates or even a pet nearby. She commutes to a desk for work just steps away from her bed, rarely leaving the house. She's completely alone. (Sound familiar?)
Confronted with this feeling of floating alone in a void, light years away from anyone else — she reached out to retired NASA astronaut Leroy Chiao to see how her life compared with his experiences in space.
Leroy describes being kept busy in space — every minute of the day came with a variety of tasks. However, he admits that without those plans in place to keep him busy, being an astronaut in space can get lonely, even with the amazing view. So in some ways, we're now astronauts in our own homes. We don't have the plans that usually keep us busy and feeling grounded.
According to The Mental Health Foundation, 24 percent of people surveyed in early April said they had feelings of loneliness within the previous two weeks. Prior to the lockdown, only 10 percent of people reported those feelings. As the foundation explains, it only took a matter of weeks for millions of people to feel isolated.
With all this time apart, we need to figure out how to stay grounded or focused so we don't float aimlessly through this period of time in our lives.
How to Be Alone
With nothing but our thoughts to keep us busy, it's no wonder why so many of us are struggling. But having the company of only "me, myself and I" doesn't have to be torture. There are ways to both acknowledge the difficulty of the situation and embrace the unique opportunity that slowing down offers.
1. Give yourself some grace.
We show compassion toward others when they struggle, so why is it so hard to give ourselves the same break? When you show compassion toward yourself you're better able to adapt and grow.
One way of practicing compassion is to keep a journal. As neuroscience and psychiatry professor Stephanie Cacioppo suggests, note the things that make you feel happy or accomplished throughout the day. No matter how trivial these things may seem, they are worth celebrating. And there is no better time than the present to start.
2. Plan for the shorter term.
Another way to get comfortable with down time is to start scheduling your time differently.
Many people are used to planning their lives out in advance. Everything between work and vacation lives on the books. But our timelines have changed. It isn't easy to plan for the year ahead when there are too many unknowns to contend with.
Plan accordingly by focusing on the near-term instead. Look just a couple of days ahead and identify what you want to accomplish during that time. As Cacioppo explains, "Then you can go to bed more peaceful because you know that you have a structure and something to do — a purpose — for tomorrow."
3. Give mediation a try.
The pandemic is stressful. We all feel it, and it's worth addressing regularly. Incorporating mediation into your daily or weekly routine can help quell nerves, improve your mood and reduce tension.
With meditation, we give ourselves permission to relax. There are lots of different programs to try like Headspace's Weathering the storm, Calm and Ten Percent Happier. While staying still and being contemplative may not be in the current skill set of many of us, it's worth giving it a try in the downtime we now have!
4. Practice mindfulness.
One of the things that many of us find toughest about the increased alone time brought on by the pandemic is not being around people we trust to help us understand our feelings.
This is where practicing mindfulness can be helpful. Mindfulness is defined as "paying attention to one's current experience in a non-judgmental way." In other words, taking the time to recognize our thoughts and feelings and being tolerant and open about them. This can help ease the loneliness we may feel hanging out by ourselves all the time.
Free Time for Those Who Feel Like They Have None
For those of us that have difficulty relating to the idea that too much downtime is "a thing" right now — there are ways to incorporate these tricks for improving mental health into our own lives.
While it may seem unlikely, you can still carve out a few moments of peace while juggling multiple full-time roles. Consider putting a 30-minute appointment on your calendar to get outside to read, soak in the bath or tune into a meditation app. Set your alarm a few minutes earlier than you normally would (and honestly, probably quite a bit earlier than your sleep schedule has morphed into these days) and use the time to journal or goal-set for the day ahead. Capturing back little pieces of time throughout the day where possible can go a long way to making you feel in control of your life during an unstable time.
What have you done during this time to get comfortable with being alone with your feelings? Share your tricks for quarantine happiness with our Facebook community!