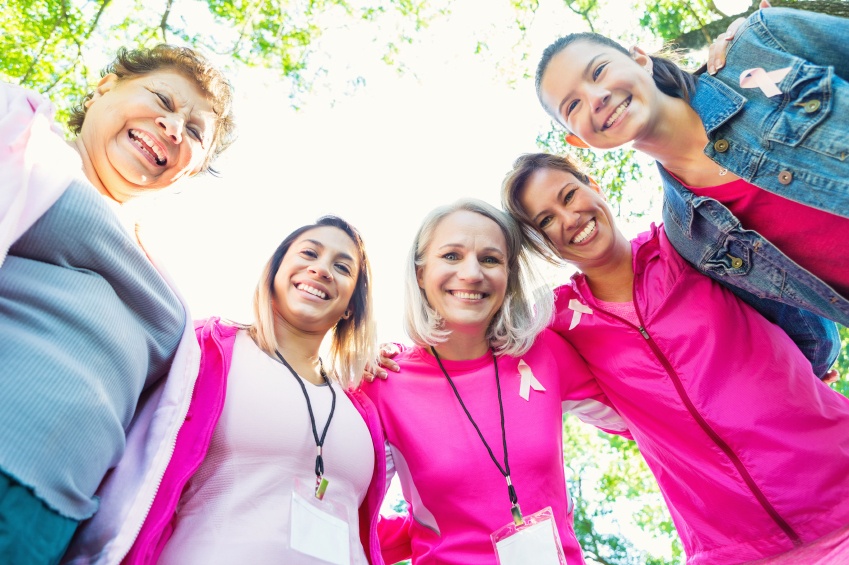 One person on their own faces significant odds when fighting breast cancer. But together, we know we can achieve more to overcome this deadly disease. For that reason, doctors, researchers, patients, caregivers, friends, family and perfect strangers give their all during Breast Cancer Awareness Month.
For the last 30 years October has been the time when breast cancer is brought to the forefront with a variety of fundraisers, 5Ks, seminars, drives, charity events and corporate philanthropic initiatives. With all this support it's no coincidence that today women are 35 percent less likely to succumb to breast cancer. All across the country people will be celebrating life and supporting the cause to end breast cancer – and you can too!
If you're looking for a way to pitch in and raise awareness this month, try taking a few ideas from the following charity events and turning them into your own:
Drink Up and Bring Down Breast Cancer
Athena is giving 4 percent of its bottled water sales to the Making Strides Against Breast Cancer initiative for an entire year starting this October. They've also teamed up with Amy Grant to produce a special song called "Welcome Yourself". Part of the proceeds from downloads will be donated for breast cancer education and research.
Use Your Social Skills to Raise Money and Awareness
This year Chevrolet is continuing their support for breast cancer awareness with a special social media campaign this month. Tell your story using the #DriveFor hashtag on Twitter or Instagram and the automaker will donate $5 for each post up to $500,000.
Shop for a Cure
H&M will be offering special pink accessories, clothing and home goods during October both online and in-stores. Lady Foot Locker and Lane Bryant will also have pink shoes, clothing and accessories for sale. Part of the proceeds from all three stores will go to the American Cancer Society's Making Strides Against Breast Cancer initiative. At Lane Bryant shoppers can also round up their total to donate to the initiative or make a $1, $5 or $10 donation.
Pinking the Canal and Raising Awareness with the Colts
The National Football League has been a huge supporter of Breast Cancer Awareness Month and teams across the nation will be wearing pink and hosting special events throughout October.
The Colts football team kicked off Breast Cancer Awareness Month with a number of events on and off the field. The Colts worked with the American Cancer Society to celebrate survivors, stress the importance of mammograms and raise funds for the Indiana University Health Simon Cancer Center. In addition to adding pink to the Colts uniform, the team turned the canal downtown pink for the aptly named Pinking the Canal event. They also had special on-field events and sell pink T-shirts during their game against the Jacksonville Jaguars.
Komen Race for the Cure
The Susan G. Komen Foundation is one of the best-known breast cancer advocacy groups in the world. Thirty-two years ago the organization held its first Race for the Cure event in Dallas, and the idea caught on quickly. Today races are held all over the country for people of all fitness levels. Want to push yourself and breast cancer awareness even further? This October there will also be a 60-mile 3-day race in Atlanta and Philadelphia.
Golfing for a Cure
Golf is one of the most popular charity events, and Breast Cancer Awareness Month is no exception. There are plenty of opportunities to tee off in the fight against breast cancer this month. Consider attending one of the following as a great reason to get your clubs out of the attic:
Castlewood Golf Tournament
When: October 13th, 2015
Where: Castlewood Golf Course – Pleasanton, CA
Breast Cancer Awareness Tournament
When: October 23rd, 2015
Where: Randolph Golf Complex – Tucson, AZ
Calera Goes Pink Golf Tournament
When: October 25th, 2015
Where: Timberline Golf Club – Birmingham, AL
Plan Your Wedding and Support the Cause
This October 15th and 17th, the HERS Breast Cancer Foundation will be hosting the Wine, Women & Weddings event in Castro Valley, CA. It's a unique way to celebrate one of life's biggest milestones while also raising money for a worthy charity.
Dallas Stars Hockey Fights Cancer Night
The National Breast Cancer Foundation (NBCF) is sponsoring many events this month. One of the largest will be a charity hockey game between the Dallas Stars and the Florida Panthers this October 24th. Attendees will get a preview of the upcoming hockey season and 20% of the tickets sales will go to NBCF.
One in eight women that live to 80 years old will be diagnosed with breast cancer. We hope that this October you'll make it your ONE Thing to support survivors, patients and foundations that are helping to fund research that will find a cure!