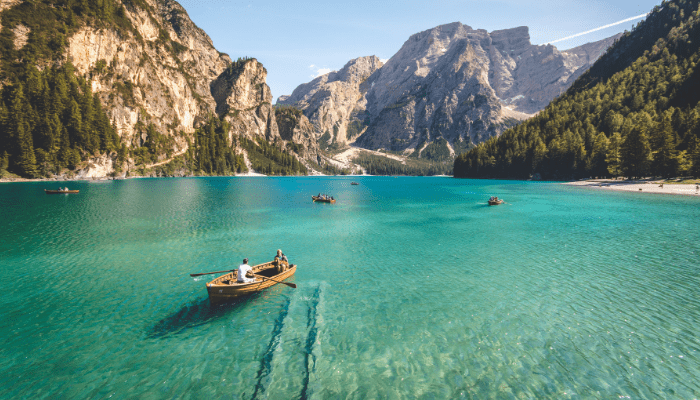 You know your ONE Thing. It's that big goal you want to accomplish more than anything. When you focus on accomplishing it, everything else becomes unnecessary. But sometimes, the environment around you changes during your pursuit of that goal. And if we aren't smart and flexible we may not be able to accomplish what we set out to do.
If this has happened to you, you're not alone. There are simply going to be times and places where we need to change how we approach our goals so that they continue to resonate with both us and the people around us.
Zig Ziglar's words encompass this problem:
"When obstacles arise, you change your direction to reach your goal; you do not change your decision to get there."
In order to maintain success, sometimes we have to change the way we approach our goal. For businesses, this reframing often takes the form of reworking products so that they remain current or align with new expectations in the market.
A great example is National Geographic, who reframed its ONE thing to stay relevant in changing times. While it's had some difficult business challenges over the years, National Geographic successfully changed the way people interact with it in order to deliver on its core goal: educating us about the world.
Sure, this company has been on the scene since before our great grandparents were in diapers. But rest assured, the lessons they can provide to us on an individual and business level are invaluable. In fact, we suggest using their experiences as a model for how to attack and accomplish your goals by pivoting when necessary.
The stead-fast ONE THING of National Geographic
National Geographic has always been a brand committed to helping people explore the world. However, the way the company delivered on this promise has changed over time. While you may think of it as the source for up-close and personal looks at global happenings, the company hasn't always had this reputation.
When it first began as the National Geographic Society in 1888, it was as a club for an elite group of people rather than for the wide audience it serves today. These few people were either highly wealthy or educated, and they shared a love of travel and exploration. The business's original ONE Thing goal was immense yet simple: to increase the knowledge of the world around us. Since the club was small, it was able to sponsor and fund both scientific research and exploration that helped accomplish this goal.
The same year of its formation, the club began publishing its magazine. Both arms of the brand shared its ONE Thing:  to "increase and diffuse geographic knowledge." However, their approach was very different from today's.  The gorgeous nature photography that National Geographic is now synonymous with? Not present in 1888. The inaugural magazine shared educational papers that were written by founding members of the group. Think academic and probably a little boring. But at the same time, National Geographic was still increasing and spreading geographic knowledge.  They were delivering on their goal.
Time marched on and things began to change, and with it public sentiment. The business realized they had to adapt their messaging to remain successful. The National Geographic Society was almost ten years old when Alexander Graham Bell (yes, the same guy who invented the telephone) became its second president. His son-in-law, Gilbert Hovey Grosvenor, also became the first full time editor of the magazine. The two men knew that National Geographic needed to re-imagine itself if it were to continue to bring the world to people.
Same ONE Thing, Different Delivery
Together, the two executives came up with a plan: to use photographs to tell stories.
The weren't included until 1905, and the first color photographs weren't introduced until 1914. Under the influence of Grosvenor and Bell, the magazine's content was shortened and became less academic. Informative captions beneath sweeping photography became the norm. When National Geographic made these changes, its focus on visual storytelling helped it to widen its appeal beyond its initial exclusive membership to a broader range of readers. The business still wanted to "bring the world to people," it was now accomplishing its ONE thing on a much bigger scale.
But, once again, peoples' view of National Geographic began to change.
While the magazine's initial decision to include beautiful photography set it apart, as time went on more and more magazines began to include photography. National Geographic began to lose its edge. The beautiful images no longer resonated with audiences at the same level and it began losing customers.
According to Success magazine, National Geographic's circulation decreased in the 2000s to half of what it was in the 1980s. Younger readers saw it as old and stogey. It was the right fit for their grandparents, but it didn't resonate with them. National Geographic realized that to maintain their success and continue their ONE thing, they had to change the way they approached their goal.
Altering our GPS to Stay on Track
Their first change involved their approach to sharing their stories. In the past, National Geographic upped their game via documentaries. You may even remember the company's early foray into the world of TV. While they were released more than a half a century ago, specials like Miss Goodall and the Wild Chimpanzees featured now-famous researchers like Jane Goodall in their own special habitats. These documentaries were ground-breaking in their day and still stand out for what they delivered.
Sure, their documentaries educated, but people's needs and wants had evolved. Straight-forward education wasn't enough now. Between network and cable television, people had a lot to choose from. They wanted to be entertained.
In the case of National Geographic, in 2001, they decided to shake their strategy up by moving into cable television.
They were still fulfilling their goals of providing education to the masses but were doing it in a way that modern audiences would find more receptive.
Using a ONE Thing to Build an Empire
The company has continued to evolve and reframe their ONE Thing as they've grown.
When they feared becoming "a dusty travel magazine piling up on the retirement home's coffee table," they moved toward building an online presence. At the time of this blog, National Geographic currently has 119 million followers on Instagram, where its audience is invited to experience the world through its photographers. According to Brandwatch, National Geographic is ranked 12th in the Top 20 most followed Instagram accounts.
Yes, they fall behind Selena Gomez and Dwayne 'The Rock' Johnson (among a couple of other well-known Instagram accounts) – but for a company that has been around since the 1800s and doesn't have a sequel to a $960 million box office movie coming out this year, ranking twelve out of an estimated 1 billion monthly active users ain't too shabby.
As a large company with more than one hundred years of experience under their belt, National Geographic's ability to change their approach while maintaining their ONE Thing is impressive. It's also something worth taking note of.
Rethinking Your ONE Thing
Sometimes it happens: much like National Geographic, things change and you lose sight of how to accomplish your ONE thing. How we're approaching it no longer works. Whether it be new shiny objects or the something else entirely, we aren't knocking down the dominoes in the same way we were previously. Our success moving forward is in flux.  When things like this occur and we know our ONE thing ultimately still serves its purpose well, we need to come up with a new way to deliver it.
When this happens, sometimes it requires us to go back to the drawing board. In other words, we need to take a good look at the GPS that we've been working from and see what needs changing.
A GPS is a system that helps us bring big goals into our sights by drilling down the priorities and strategies we'll need to adopt to succeed. From there, we can chart a path that will lead us toward our goal.
And remember, your ONE thing doesn't have to stop when you think you've reached the end of a road. Rather, go big and imagine even greater success in your life and business.
As you work toward achieving your ONE thing, be aware that opportunities evolve over time. When the effectiveness of one strategy begins to wane, whether that be through shifting perspective, audiences, or due to us hitting a ceiling of achievement, the best thing we can do is reevaluate our approach and examine avenues that might give us a greater return on our time.