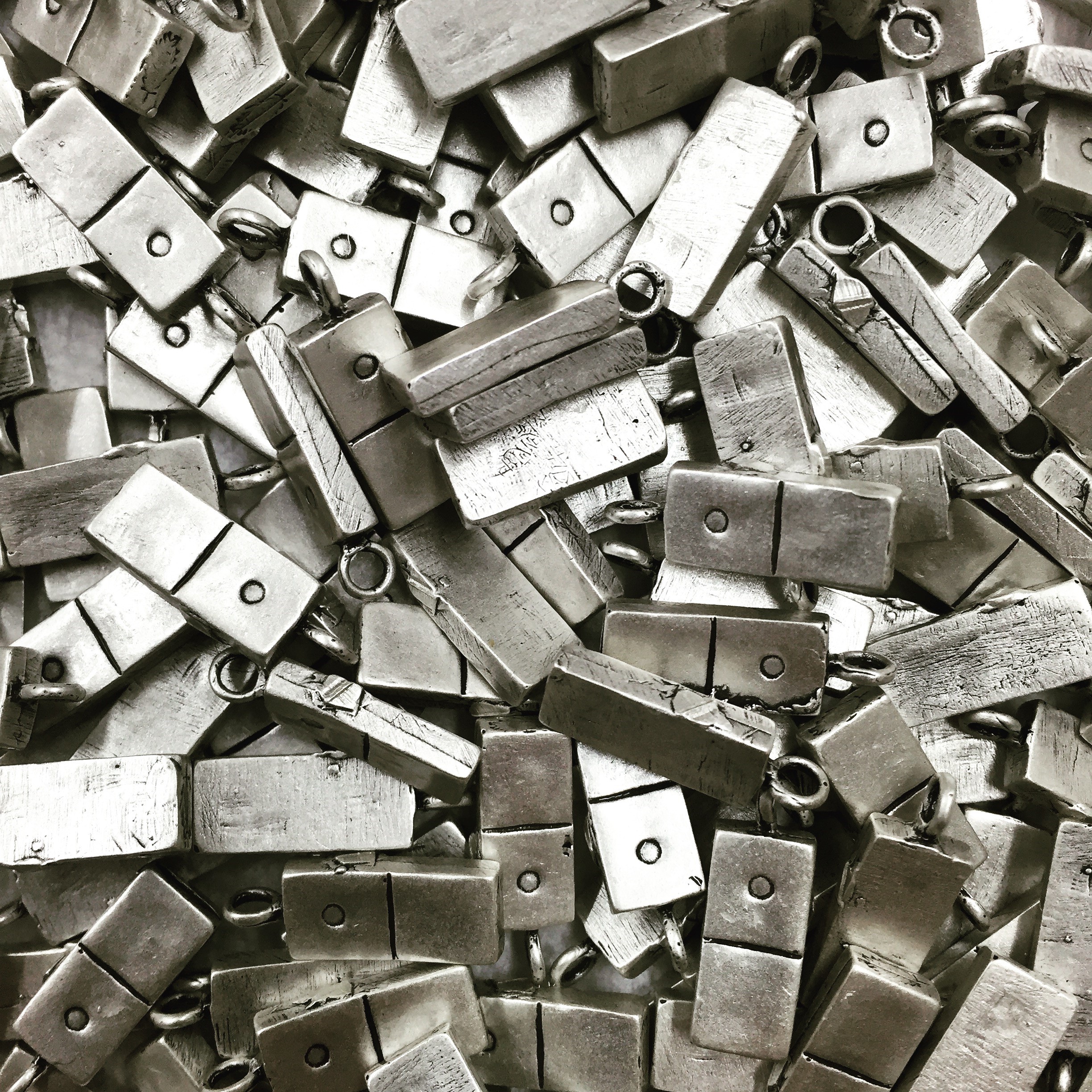 Everyone needs a reminder at times on how important it is to focus on their ONE Thing. Similar to tying a knot around your finger so you won't forget a promise, an easy way to maintain focus is to associate important thoughts with objects that demand our attention.
This season, jewelry maker Madeline Ellis of Mimosa has introduced the perfect keepsake – a custom made domino necklace – to help keep your ONE Thing on your mind. And with our holiday special, you can pair this beautiful necklace with a copy of The ONE Thing as a gift for yourself or someone who craves success in your life!
This piece of jewelry is something Madeline believes in because it represents a book she bases her life upon. When she first read The ONE Thing, it helped her shift from scrambling to cross off items on her endless to-do lists to focusing on getting the most important thing done each day. Because of the lessons of The ONE Thing, Madeline now starts off each day by identifying the most important thing for her to do that day and focuses her energy and attention on that ONE thing. The rest, she says, can usually wait.
But that's not all her domino necklace acts as a reminder for. Equally important for her life and business is the act of timeblocking, which has been vital to her productivity and creative exploration. And when a day or two passes and she isn't able to work uninterrupted in a block of time, she says she can tell the difference.
With such dedication to her craft, it may come as a surprise that Madeline Ellis didn't start her career in jewelry making. Although she credits her grandmother with purchasing the first fishing wire and clasps to make her first beaded necklace as a child, she got a degree in landscape architecture, which coincidentally, was later an influencing factor behind her jewelry designs and approach to work. For years, she worked in a landscape design firm by day and made jewelry at night. Thanks to the encouragement of her husband, she began selling her jewelry at a local arts market and from there, gained a loyal customer following. With experience, she slowly expanded her work into metals like the ones used in the Domino necklace. As her business grew, she decided to go all in and focus on her ONE Thing – jewelry. Madeline left her day job to focus on her jewelry business and eventually her husband sold his landscape design-build company to join her in pursuit of her passion. Today, their ONE Thing is their successful jewelry business, Mimosa.
What does The ONE Thing mean for her business? The approach she first applied to her business has now spilled over into the rest of her life, including how she approaches parenting, living healthy, and even relationships. Thanks to the book, she has given herself permission to be fully in the moment working on her one most important thing, in whatever area of life she is focusing on.
Want to hear more about what Madeline had to say about The ONE Thing and the domino's meaning? Watch this video.
Want to incorporate some of Madeline's purpose and drive into your own life or into the life of someone close to you? Use our holiday special and receive a discount when you purchase both The ONE Thing and the Domino necklace for a limited time this holiday season!