As you pull up to your office on Take Our Daughters and Sons to Work Day it may be hard to imagine that, one day soon, your child sitting in the backseat of the family vehicle will be off pursuing their own career. Participating in this special event is a great educational opportunity for kids because it gives them a glimpse of what it's like to be a part of the workforce. Relaying the importance that education plays in helping kids land their dream job is a primary goal of the program.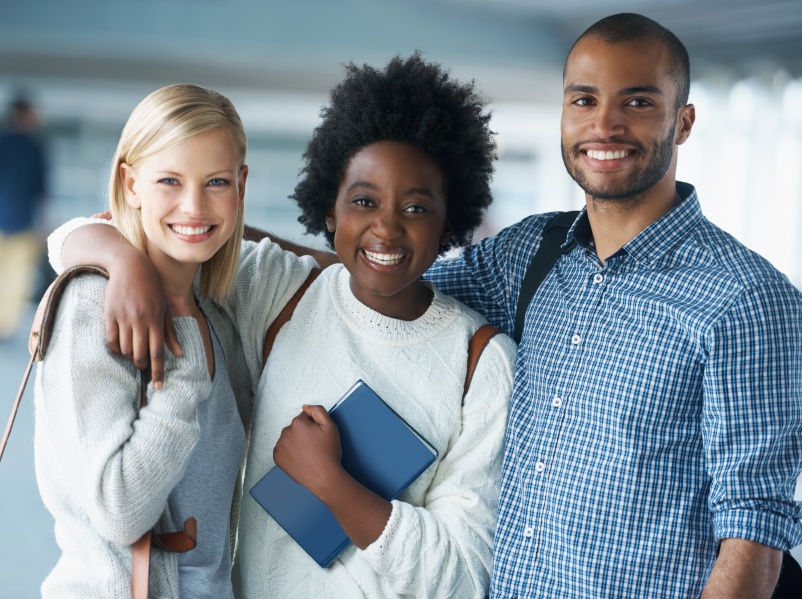 For many careers, a college education is a requirement. As the economy and job market go global, competition and the need for higher education becomes even more apparent. But so does the cost of that education.
The National Center for Education Statistics (NCES) is tasked with tracking college expenses in the U.S. After adjusting for inflation, they found that from 2001 to 2012 the cost of college tuition, room and board for undergraduate studies at a public institution rose 40 percent. Those same costs at private nonprofit schools increased by 28 percent.
While your kid works alongside you today, it's a great time to discuss their college aspirations and start planning on how you will save for their future education.
Talk About College with Your Child
College education varies wildly from accreditation programs at two-year schools to master's degree programs at tier one schools. The potential career that your child is interested in pursuing can influence where they end up and how much it costs. Even if you've already started saving for your child's college education, once they reach middle school, it's time to start having college conversations.
Discussing college can give you a better idea of their areas of interest and the corresponding education that will be needed. Things to consider include:
Will your child likely attend college in-state or out-of-state?
Do they have their sights set on a private school or a public university?
Will they live at home or will they need their own room and board?
Will they need a specialized degree that requires more extensive schooling?
How many years of education will be needed?
These conversations can help you fine-tune your savings plan so that you don't come up short. It can also provide the perfect opportunity for discussing saving and money management with your kids.
Get a Good Estimate of College Costs
Until you know how much you need to save, it will be difficult to establish goals and a path for reaching them. A little bit of research can help you determine a rough estimate of what college will cost after everything is factored in.
Calculate the Net Price
Currently the average annual sticker price for tuition and fees at an in-state public university is $9,139. But as BigFuture points out, the net price is the most accurate estimate for college costs. This is the total for annual tuition, fees, room and board after scholarships and grants are subtracted from the sticker price. Fortunately, the federal government has taken on the legwork of gathering data on the net price for schools across the country. The College Scorecard is a searchable database that you can use to learn more about the actual out-of-pocket costs. You can search for a specific school or a certain type of school based on a number of parameters.
Account for Inflation
At the rate that college tuition costs are increasing, there's a very good chance that the prices you see today won't be the same by the time your child is ready to head off for their first semester. However, today's prices are a good starting point for determining the eventual costs. If your child is still ten or more years away from graduating high school, take today's costs and increase them by 50 percent. Based on the NECS research noted above, this should adequately estimate future costs and provide for a little extra padding.
Squirrel Away Money in an Education Savings Account
Section 529 Plans are specifically designed to encourage people to save for college. The plans are sponsored by states and agencies as well as educational institutions and come with plenty of additional perks.
You'll first need to decide if you want to enroll in a Prepaid Tuition Plan or a College Savings Plan. Prepaid Tuition Plans are highly desirable because they lock in today's tuition rates and essentially help you purchase college credits as you pay into the account. However, these plans are tied to specific colleges, usually ones within your state, and residency is often a requirement.
If you want more flexibility in the schools your child can attend, are unsure of where you'll be living when they're ready for college, or unsure of what their higher education goals will be, then a College Savings Plan is the better choice. This is essentially an investment account that is created specifically for covering college costs. You name your child as the beneficiary then choose an investment option that can be based on their age.
Both options come with tax benefits. The money earned from the 529 Plan won't be subject to federal taxes, and many states also offer account holders a pass on paying taxes. However, before you invest in either, it's always a wise idea to talk to your financial advisor to make sure that the rules around these college savings plans haven't changed and one of these plans is ultimately the right vehicle for your goals.
Here are a few other ways to minimize the cost of college while you sock money away in a 529 Plan:
Students should consider taking college courses while still in high school. In some states if a student is dual enrolled the college courses are free.
Encourage your children to enroll in Advanced Placement (AP) classes when eligible and take CLEP exams that can help them earn college credits for basic required courses.
Start gathering information on scholarships early. Local and institutional scholarships can be competitive so knowing what you need early on will give you an edge.
Invest in SAT and ACT prep classes. The higher the score, the better chances there are for receiving scholarships.
As the documentary "Ivory Tower" points out, the cost of college is increasing much faster than the average American's income. And unfortunately if economic barriers exist, students usually shortchange themselves by not applying for the most prestigious schools or limiting their options to what's around them. The ONE Thing you can do to expand your kid's educational opportunities and give them a clear path to any career they want is to start saving for college right now!
Original Source: http://www.the1thing.com/the-one-thing/3-ways-to-save-for-your-kids-college-education/