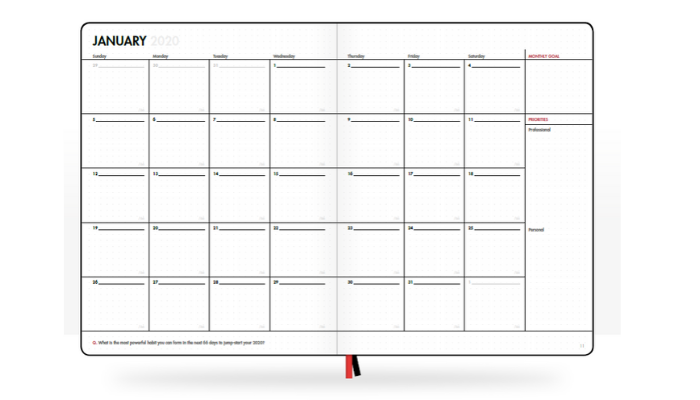 The twenty-tens are drawing to a close and the Roaring 20s 2.0 are just around the bend. And here at The ONE Thing, that means it's time to start planning for the year ahead. Whether you've already had your own Goal Setting Retreat, come to ours, or are still trying to figure out your plan for 2020— you'll need a place to keep track of your goals, your journey, and a tool to hold yourself accountable along the way.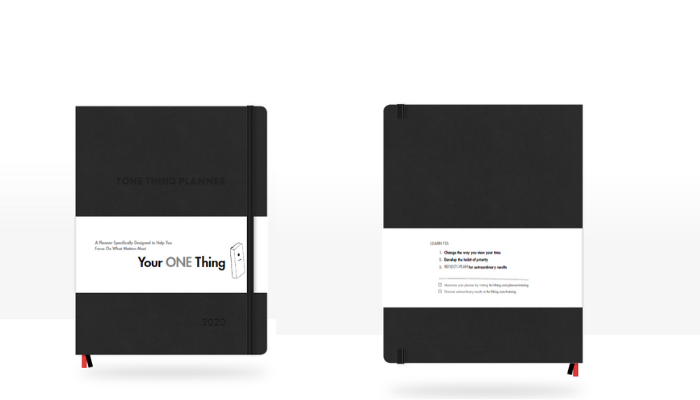 For us, that tool is The ONE Thing Planner. And, luckily, we have the 2020 edition ready for everyone to check out.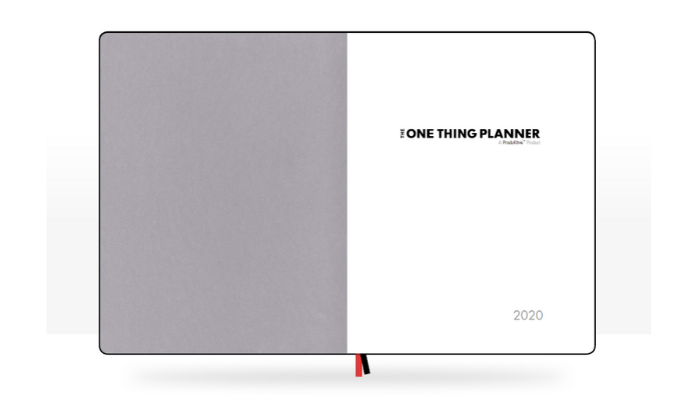 Based on the personal planners of coauthors Jay Papasan and Gary Keller, our planner is designed to help you keep track of everything from your biggest goals to your tiniest domino. Made to work in conjunction with your GPS and 411, The ONE Thing Planner helps you home in on what your ONE thing is each day.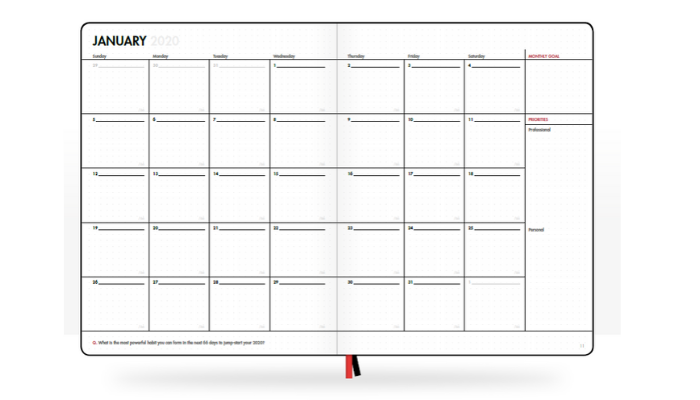 Our planner opens with a space for you to reflect on this past year, and what you'd like to do going forward. We want to help you catalogue what you've accomplished and learned here, from the highs to the lows, the wins and losses. When you've taken time to think deeply on your last year, you can take that knowledge with you into the new year, and set your goals accordingly.
We want to change the way you think about time and develop the habit of priority. Although it can be easy to get lost in the mire of our digital calendars and their ten million reminders, it's important to simplify. Because, for the most part, the things we put on our digital calendars are just distractions. They're the 80 percent. The catchall for meetings, calendar invites, and to-dos.
But the 80 percent isn't where life changing results lie. By focusing on ONE thing for the day —our 20 percent—we gain back more of our time. Not only that, but how we use our time changes, because we're giving our energy to the things that matter most. The planner helps lay these changes out visually for you. We'd love to help you along your path to reaching your biggest goals.
Ready to pre-order the 2020 planner? Click here.
Interested in learning more about the planner? Click here.
Want to learn more about Goal Setting Retreats? Click here.
Curious to learn about a 411 or a GPS? Click here and here (respectively).