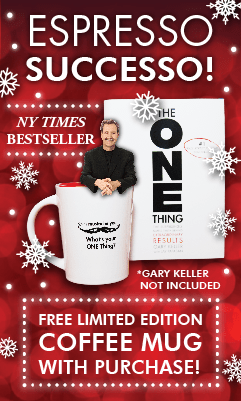 It's that time of year, and no doubt you've been even busier than usual – cooking for 17, constantly cleaning muddy footprints, fighting the crowds for that $1-off deal, and wrapping this year's numbers to inform your 2014 business plan in between.
Don't you just want to curl up with a good book and a cup o' joe? This cyber Monday, you – and the VIPs in your life – can.
The ONE Thing is a book for busy people. Moms, Dads, students, CEOs, entrepreneurs, health nuts and soul seekers alike will not only find solace, but even greater success in taking a breath. You see, the book's entire focus is to teach you how to accomplish more, by actually doing less.
Named one of Hudson Bookseller's Best Books of 2013 alongside works by Malcolm Gladwell and Sheryl Sandberg, and recognized as one of Inc. Magazine's Top 5 Inspirational Business Reads this year, The ONE Thingis making a splash in coffee mugs 'round the world. This holiday season, we want to share in that cheers with you and yours by offering an exclusive limited edition ONE Thing mug with every purchase.
Here's to big results, many success … and the invention of the latte.
Original Source: http://www.the1thing.com/gary-keller/cheers-to-cyber-mondays-a-latte-success-special