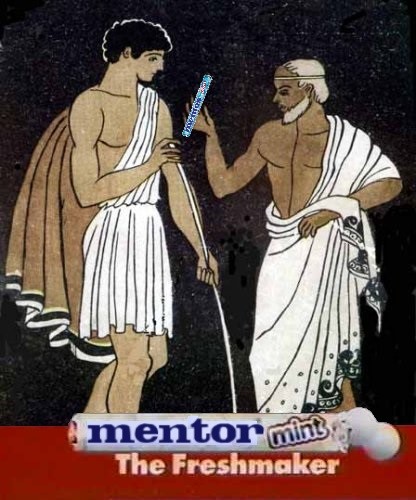 A great mentor won't tell you what you want to hear, but what you need to hear. It's easy to get a friend's blink, and it's important to have a spouse or colleague's buy-in. But, where do you turn for long-term guidance and accountability in the areas of your life that matter most? You turn to your trusted advisor – you find a mentor.
The word mentor is rooted in Homer's Odyssey where Athena (disguised as character "Mentor") imparts wisdom unto Telemachus that guides him to reconnect with a father he's never known – a great personal victory.
In modern-day the term has been coined as someone who encourages, shares knowledge, constructs action plans and provides accountability. And, in the same way Athena helped guide Telemachus to his long, lost father, we use mentors to show us a path in the areas of our lives that matter most. But where do we start? What parts of our life do we look to have mentors in, and where do we find these gurus?
In The ONE Thing, authors Gary and Jay bucket seven of these key focal points – your spiritual life, physical health, personal life, key relationships, job, business and finances. And, over the next year, we're going to tackle ONE bucket, ONE month at a time.
Your Action Plan: ONE Mentor a Month
To help you put The ONE Thing to work, we're raising our hand as your Athena – connecting you with trusted advisors so you can lead the big life you deserve. Here's how:
We've assigned each bucket to a month that you may naturally be giving more attention to that area of life – ie. we're going to focus on financial advisors in April since tax talk runs rampant and money is top of mind. Each month keep an eye out for tips from well-known mentors, success stories from readers like you, guest bloggers, videos, additional tools and much more. Here's the line-up.
February: Physical Health, NYE Resolutions to shape up are running strong – keep the pace!
March: Spiritual Health, Spring is in the air – turn over a new leaf!
April: Finances, It's tax season – refresh your money memory and account action!
May: Job, Graduation's here – what's in a job?
September: Personal Life, Summer vacation doesn't have to end – "you" time still matters!
October: Business, That's a wrap – close Q4 with a bang!
November: Key Relationships, It's a time of thanks – who are you thankful for?
December: All Buckets – where will you're mentor attention be in 2015?
Stay tuned for our physical health kickoff next week, and share your stories and AHAs #ONEthing.
Original Source: http://www.the1thing.com/applying-the-one-thing/finding-guidance-the-importance-of-having-mentors