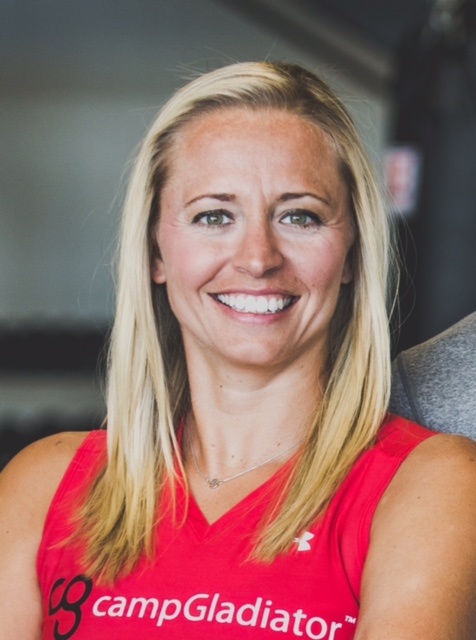 Not too long ago, Jay Papasan hosted Ally Davidson, co-founder of the fitness empire Camp Gladiator, on his ONE Thing webinar series to talk about personal health and fitness. This health and fitness guru has so much to offer that we decided to catch back up with her to gather more insight on what we can do to improve our physical health.
Ally has always been a fitness lover, going as far as attending a try-out for the television show American Gladiator the morning of her wedding. Not only did she win a place on the show for herself and her husband, they excelled, with Jeff making it as far as the semifinals and Ally ultimately winning it all, earning the title of Grand Champion. Following their journey on television, Ally and Jeff set a big goal: to use the prize money and publicity from the show to establish a company that focused on outdoor fitness classes and training.
Today, Camp Gladiator has 400 trainers. This month alone, they have 30,000 "Campers" participating in their programs across ten markets in the United States.
ONE Thing Team: What are your top three tips for getting in the best shape of your life?
Ally: First, in order to be successful in the long-term, you need to find a program you enjoy and can stick with. Next, make sure it's convenient. It has to fit within your daily and weekly routine. You won't keep with it if you have to make a big effort to just get there! Finally, make sure you seek accountability with whatever you do. Whether it's your friends or a trainer, have someone that keeps you honest!
ONE Thing Team: It's time to turn the tables now. What's the best piece of advice you've ever received regarding your own personal health and fitness?
Ally: I'm seven months pregnant, so I know the struggle when exercise can get hard. The best advice I've received is something that my sister-in-law told me: sometimes you have to give yourself a little bit of grace. That piece of advice has helped me a lot. Nobody's perfect. If you're struggling with something or if you miss a day, forgive yourself and move onto the next day. Don't dwell on it. You've got to get back on track and forget about what happened yesterday because you can't change it. Instead, you have to ask yourself "What am I going to do tomorrow? What am I going to do next week?"
ONE Thing Team: If a young person you really cared about were to ask you, "What's the ONE Thing I can do for my personal health this year such that by doing it everything else would be easier or unnecessary?" what do you think you would tell them?
Ally: Be as consistent as you can because you won't see any progress if you don't. You need to set an appointment with yourself and commit to it. To see a lot of good progress, I would aim for exercising three days a week. Then, if you do happen to miss a day, at least you still got in two workouts, which would be the minimum I recommend. Working out can be hard, but if you do it more and more, you don't feel the pain of starting over each time.
ONE Thing Team: How have you been able to apply the principles of The ONE Thing to your personal health?
Ally: The two topics that really resonate with me are the myth of multitasking and the need for focus. They go hand in hand. Like multitasking in an office, don't try to do a million different things in your fitness routine. Focus on a single program for a set period of time because, if you do that program well and you're committed to it, you'll see better results than if you dip your toe into a variety of programs.
ONE Thing Team: What does the ONE Thing mean for your personal health?
Ally: People tend to get in a little over their heads and list too many goals, especially with the New Year. I think that if you focus on the workout, everything else is a ripple effect from that. If you are working out, well guess what? You're going to sleep better at night because you're going to be tired. If you work out you're going to naturally make healthier eating decisions because you won't want to eat a giant cheeseburger before your workout or right after it. You're going to drink more water because you aren't going to want to feel dehydrated during your workout. You're going to naturally make better decisions. That's why I generally tell people start with the workout, everything else will come. It's going to give you more energy and motivation to want to do better in other areas naturally and without having to think about it too much.
ONE Thing Team: What's the best part of your job?
Ally: It's the most rewarding career on the planet. Our whole mission is to positively impact the physical fitness and, ultimately, the lives of as many people as possible. I love hearing the stories of people that have changed their life through Camp Gladiator and experienced a ripple effect from getting in better shape that helped them become a better spouse or parent, or accomplish a goal that they never thought possible. When people start to feel good about their bodies, they develop a confidence that positively impacts so many other areas: work, what they do on the weekends, how they feel about themselves — it can really change somebody's life. That's the most fun part about what we do.
ONE Thing Team: What's your favorite part of the day?
Ally: For me, most of my day is spent in the office behind a computer or in meetings just running the Camp Gladiator business, so my favorite part of the day is the time I get to work out. That's my adult recess time.
Want to hear more from Ally about health and personal fitness? If you haven't listened to the webinar yet, click here to do so now!