Close your eyes and picture your perfect summertime scene. Does it have a job interview in it? If you're a recent college graduate, your answer is likely a pit-swallowing "yes." In fact, if you're one of the 83 percent of graduates that doesn't have a job lined up at graduation,  early summer tends to kick off one of the most stressful times — getting your career started.
Once you cross the stage and receive your diploma, the rules of the game seem to change. Almost immediately, you're expected to have a plan for your future as well as a roadmap and the skills to make it happen. Landing the right job is the first domino you should aim for with your new diploma in-hand. With that in mind, here are seven tips for mastering that first interview and landing your dream job.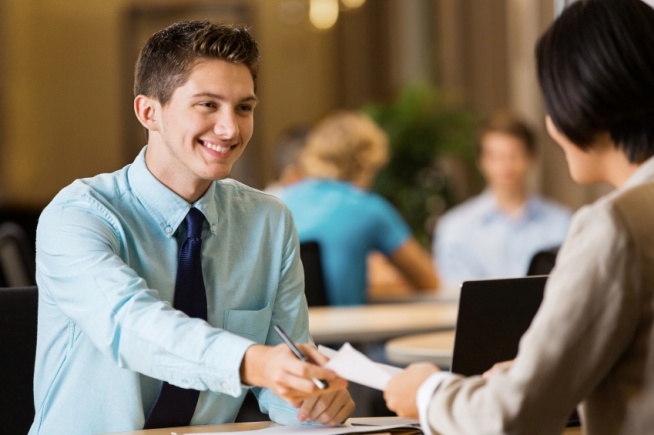 1. Put the experience you have to good use
Sure, you're just entering the real world and your resume doesn't have pages of prior work to show off. However, you've likely applied the same skills you'll need in this new post-graduate world to experiences you've gathered prior to graduation. Whether it be in classwork, volunteer activities, studying abroad, after school activities or work, you just have to tap into what you gained from your previous commitments and determine how it has helped mold you into the perfect entry-level employee for a post-college job.
2. Do your homework
Once you have an interview lined up, put your classroom skills to good use and research the industry you're trying to gain access to.  Taking the time to explore the industry is beneficial on several levels. Not only will it be helpful to understand the current business environment, but you're also showing the interviewer that you are a resourceful go-getter. This can help you stand out in a room full of eager applicants.
3. Interview the interviewer
One surefire way to impress the hiring manager is to prove you've done your homework by taking the time to research the company, its culture and its offerings. Demonstrate your interest in being part of the team by compiling a list of thoughtful questions in advance of the interview that show curiosity and that you've thought about your future role with the company.  Ask about what the people are like, the type of projects you'd be working on, and how your career trajectory may look with the firm.
4. Dress to impress
You are the sole representative for your own personal brand, so dress for the impression you want to make. You want your skills and personality to be two things your interviewer takes away from the interview, so don't let your wardrobe detract from the qualities you bring to the table.
5. Be aware of your non-verbal cues
Sure, almost everyone is uncomfortable at a job interview. But it's important not to show your nerves. Being mindful of how you present yourself nonverbally in an interview may be one of the simplest tools of the trade, but it's also one of the first that go out the window when you're sitting across the table from a person who you feel holds your future in their hands. Engage the interviewer by making eye contact and smiling. Show them you're happy to be there and excited by the prospect of working at their company with your body language.
6. Show sincerity
If you have a deeper reason for hoping to add yourself to a business's organization chart beyond simply wanting a paycheck, tell them about it! Did you read the founder's book and enjoy it so much that you've adapted your life to fit their advice? Did you hear one of the top executives speak at your college's recent lunch'n'learn and love what you heard? Let the hiring manager know what sparked your interest in the company, especially if it sets you apart. A word to the wise: be truthful. A lack of sincerity is surprisingly transparent.
7. Apply universal examples
Prior to your interview, it's wise to look back on your experiences thus far and determine five or six key instances where you've faced a challenge, dealt with it accordingly, had a quantifiable outcome, and learned as a result of it. Take time to figure out how to adapt each of these experiences to a variety of topics in a job interview so you're ready with a great story for any question that may come up.
Have any other tips that a college graduate would benefit from hearing? Add your handy suggestions to the comments below.
Original Source: http://www.the1thing.com/the-one-thing/interview-tips-for-the-recent-college-graduate/