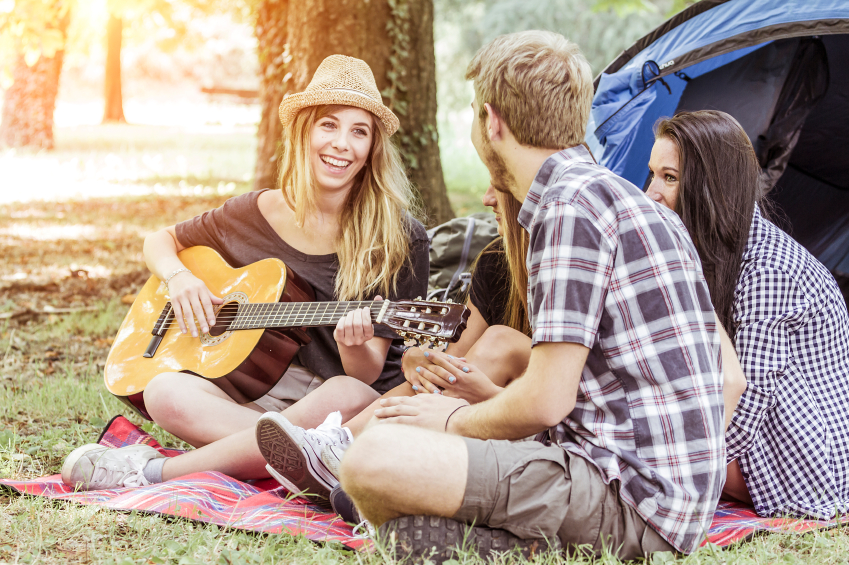 Too often summer jobs get written off as a temporary gig that's helping fill your free time. But summer jobs can be much more than a paycheck if you focus on a fun job that increases your skillset, network and/or life experience. Some jobs even allow you to make the most of summer distractions by putting you right in the middle of the action.
There's still plenty of time left this summer to pick up one of the jobs below to make a little extra cash, improve your resume and get a few steps closer to your ONE Thing.
Golf Caddy
Average Pay: $11-22+ an hour, plus tips
Career Benefit: Networking
Many a businessman will tell you that deals are made on the golf course. Even if you don't meet someone who's hiring, having a unique understanding of the game can help you years down the road. Being a golf caddy also offers the added benefits of great physical activity and really good pay.
House Sitter
Average Pay: $50 a day
Career Benefit: Home Management
With families going on vacation the need for house sitters is at an all time high during the summer. Managing someone's home isn't something to take lightly. It's the largest investment for most people, and all it takes is a split second for a fire or break in to happen.
Babysitter/Nanny
Average Pay: $10-15 an hour
Career Benefit: Management, Responsibility and Creative Thinking
For families that have two working parents summer means finding a babysitter to bring into the fold. Taking care of kids means you have to juggle a lot of different tasks a once, care for their needs, be a problem solver and come up with creative solutions for keeping them entertained.
Lifeguard
Average Pay: $9+ an hour
Career Benefit: Life Saving Skills, High Level of Responsibility
Water parks, community pools, lakes, the beach – summer and water go hand-in-hand. Lifeguards are needed to watch over everyone that's enjoying a swim, but it's a job that comes with a significant amount of responsibility. It also takes commitment to get the necessary certifications that can save a life well after you're done with your summer job.
Lyft Driver
Average Pay: Up to $35 hour
Career Benefit: Time Management and Sales
While people are on vacation they often leave their car at home. That increases the need for alternative transport when they're exploring a new city. Lyft is one of the newest ways to get around for less than the cost of a cab. As a Lyft driver you'll make good money, meet a lot of different people and will probably end up being an impromptu tour guide in addition to marketing yourself to win future business.
Camp Counselor
Average Pay: $235-306 a week + food and housing
Career Benefit: Time Management, Project Planning and High Level of Responsibility
Keeping dozens of kids on schedule for weeks at a time is no easy task. Camp counselors also have to plan out projects and oversee activities while getting along with 24/7 co-workers. Being a camp counselor is a great summer job for adults that will prepare you for work within education or project management.
Bartender
Average Pay: $10+ an hour
Career Benefit: Adjusting to Behavioral Style and Sales
Maybe it's the beautiful weather or the fact that more people are on vacation, but during the summer happy hour seems to start a little earlier. Being a bartender means dealing with a lot of different personality types, active listening and multitasking. It's a profession with huge swings in pay depending on how much effort you put into it and how well you connect with customers.
Convention Worker
Average Pay: $12+ an hour
Career Benefits: Event Planning
Getting an inside look at how large events are organized is a unique experience that can pay off in almost any company. There are also a number of different job opportunities that you can take on at a convention center including marketing, customer service and sales.
Home Construction
Average Pay: $20-25 an hour
Career Benefits: Prioritization and Planning
Summers are the height of the real estate season, and builders are increasing production to capitalize on the growing demand. Getting on a home construction crew can keep you busy for the entire summer. Knowing that you have helped build a home for a family is rewarding in and of itself, but construction work comes with a number of other career perks. Constructing a home requires careful planning, prioritization and money management to keep the project on track.
Original Source: http://www.the1thing.com/the-one-thing/top-8-fun-summer-jobs-that-increase-your-skillset/